Seat Puts The Wind Up Ecomotive Drivers
Hot on the heels of its exciting new solar sunroof technology, debuting in the SEAT Exeo saloon which goes on sale here officially tomorrow (2 April), the inventive Spanish brand is today unveiling another exciting innovation.
While the Exeo's optional sunroof uses small solar panels to generate electricity and power the car's ventilation system on hot days – drawing ambient air into an otherwise hot cabin when the vehicle is parked with the engine off – the new device adapts wind turbine technology to power the Ecomotive's headlights.
Available to order from today as an option on the new, second generation Ibiza Ecomotive, the ingenious Aero-Tonto electricity generation system is set to become the ultimate accessory for green-minded Ecomotive drivers.
Designed to save yet more fuel and improve still further the new Ibiza Ecomotive's mpg performance (the standard car without Aero-Tonto is good for up to 94.1 mpg extra urban) the timely new option is capable of adding as much as three miles per gallon to that remarkable mpg figure.
It works by reducing the need for the Ibiza's efficient turbodiesel engine to generate electrical power, as the Aero-Tonto's blades spin like a mini wind turbine producing enough charge to run the car's headlights.
When an Ecomotive boasting this option is travelling at three miles per hour or more, the Aero-Tonto's blades rotate fast enough to fully illuminate the dipped headlights.  Beneath that speed just the side lights, or indicators, will function while speeds of 24 mph or more are needed for full beam.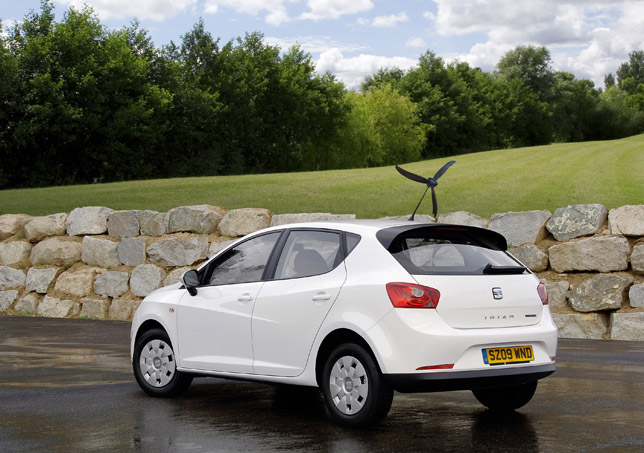 The device, itself made mostly from recycled plastic, is almost silent during operation and the blades are capable of being folded around the Ibiza's bee-sting aerial for trips to the car wash.
SEAT Development Engineer Santos Inocentes, the man behind last year's stunning Electro Reflective paint innovation, said: 'We think the new Aero-Tonto device will really get Ecomotive drivers charged up.
'Cutting the alternator's drain on the car's engine means a potentially significant fuel saving, while harnessing the power of the wind is potentially limitless.'
Snr Inocentes and his colleagues are currently perfecting a much larger version of the Aero-Tonto – with eight blades each measuring three feet in length – which should be capable of satisfying the car's entire electrical needs.  It's thought the device will be able to power everything from electric windows to the air conditioning condenser and even the car's stereo sound system.