SEAT claims 1-2-3 In Valencia
The World Touring Car Championship had its fifth meeting of the season today in Cheste and SEAT achieved another success claiming the top three positions in the first race with Yvan Muller as the winner, followed by Tiago Monteiro and Gabriele Tarquini.
The weekend has been extremely profitable for the Spanish make, keeping the leadership both in the drivers and manufacturer's overall standings; a place they haven't left since the beginning of the season after five victories and eleven podium finishes.
Once again, team spirit has been the most efficient weapon of SEAT, since the perfect coordination of their drivers and engineers allowed to claim the top four positions in yesterday's qualifying practices.
This privileged situation gave them the chance to dominate the first race clearly. Muller overtook Tarquini in the first turn and a few laps later, it was Monteiro who put himself on second position, to keep this order until the chequered flag.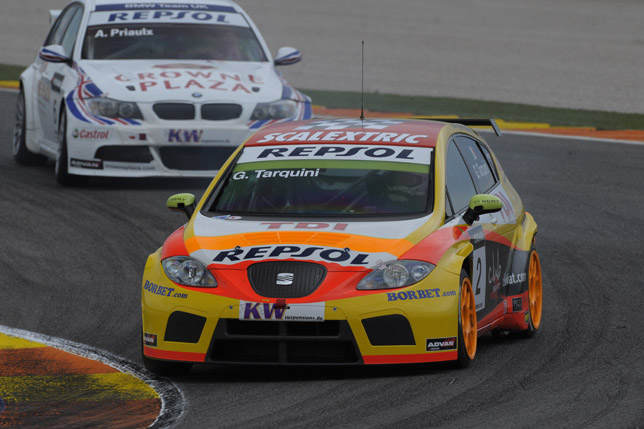 In the second race, Tarquini managed to finish third again after a close fight with Andy Priaulx during which they swapped positions several times. Starting from behind, Muller and Monteiro finished among the top eight, thus scoring important points for the championship.
Jordi Gené had an accident in the first corner which left him out of the first race, forcing him to start the second race from the back. However, he managed to recover and finish in eleventh position. Rickard Rydell was also involved in the incident but with less fortune and was not able to score in any of the races.
The next round of the Touring Car World Championship will be staged on the Brno racetrack in the Czech Republic on 20th and 21st June.