Sebastien Loeb and Daniel Elena: the 2008 World Champions
Sunday November 2, 2008, will be remembered in rallying's record books as the day Sebastien Loeb and Daniel Elena claimed their fifth consecutive world title, a unique feat in the history of the sport. Indeed, the pair has reigned supreme since 2004, initially with the Citroen Xsara and, more recently, with the Citroen C4. As in 2005, they made sure of the crown in Japan, this time with one round remaining. The curtain is scheduled to come down on the season in three weeks' time in Wales where Sebastien Loeb/Daniel Elena and Dani Sordo/Marc Marti will be out to secure the Manufacturers' title, too, at the wheel of their respective C4 WRCs.
Although the final leg of the 2008 Rally Japan featured just 96.43km of competitive action (divided into nine stages), everyone in the French squad found the day extremely long as they waited to pop the champagne to celebrate today's historic occasion.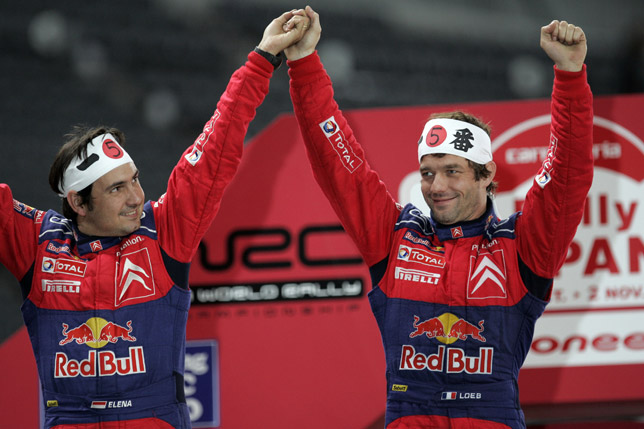 As was the case on Friday and Saturday, Sebastien and Daniel made no attempt to deal their rivals an ipponstyle knockout blow, especially since the conditions were once again wet and muddy. Not surprisingly, the state of the stages produced a certain amount of anxiety within the team's ranks. In the end, however, the Citroen pair completed the rally in third place which was enough to hand them their fifth world title in just six full WRC campaigns! This score takes Sebastien and Daniel clear of the record they previously shared with Juha Kankkunen and, more especially, Tommi Makinen, who was the only driver before them to succeed in racking up four consecutive championship wins (1996 to 1999).
"It's a fantastic feeling," beamed Sebastien at the finish. "Along with Daniel and everyone in the team, the objective we set ourselves for this year was to win another world crown, and it's tremendously satisfying to have met that target today. I really wanted to wrap up the title here in Japan to enable us to go into Wales Rally GB with a totally free mind. That made the weekend very long and very frustrating, and I have to say that it wasn't much fun. Our C4 and our Pirelli tyres functioned very well together on this event, though, and we did what we could to keep any thoughts about the championship out of our minds, but it wasn't easy. The title just seemed to loom larger after every stage, and it was well worth the wait in the end!"
"I cannot say whether this year's title is any finer than the others," said the now five-time World Champion*. "I will always have special memories of our first crown and I don't want to give the impression that winning is something you get accustomed to; it's just that each title feels different. One thing that has been the same each time is the thrill of being able to share our joy with everyone in the team. They have always given us a car with the potential to challenge for victory, and this is their title, too. That includes Dani Sordo and Marc Marti whose own results contributed to our success. Our thoughts now turn to Cardiff where we will try to make it a championship double for Citroen…"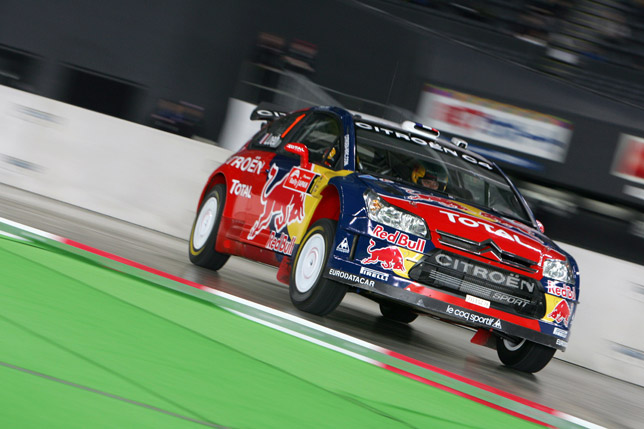 "It's been a long year, but winning the title is such a great feeling," agreed Daniel Elena. "This is our fifth world crown together, and each one has given me tremendous pleasure. I'm not interested in the statistics, though; what counts the most is enjoying the stages, profiting from the terrific atmosphere within the team and working with Seb."
"I am very pleased for 'Sebastian' and 'Danos'," added Dani Sordo. "They have scored ten wins so far this year and they fully deserve the title. It's an honour for Marc and me to be in the same team as them. There is still one more round to come and we will do our best to score the points Citroen needs to take the Manufacturers' crown and for us to finish third in the Drivers' championship." The Spaniards failed to finish the Rally Japan, however. Following their turbo trouble on Friday, the team asked them to stop before the finish to enable them to run a new engine on the Wales Rally GB, in accordance with the regulations.
After today's podium ceremony, Olivier Quesnel was clearly moved by his first title as the new boss of Citroen Sport: "It's very, very satisfying," he smiled. "The fact that Sebastien and Daniel have sewn up the Drivers' title means we have now achieved half the target we set ourselves before the start of the season. We will take time to celebrate today's result with all the Citroen Sport staff back at our base in Satory, but we will then immediately re-focus with a view to wrapping up the Manufacturers' crown in Wales where the skill of our crews and the motivation of everyone in the team promise to be valuable allies…"
Stage wins: Day 1: SS1 and SS2: Mikko Hirvonen (Ford Focus) – SS4: Sebastien Loeb (Citroen C4) – SS5, SS6, SS9 and SS10: M. Hirvonen.
Day 2: SS11: Dani Sordo (Citroen C4) – SS12: Petter Solberg (Subaru Impreza) – SS13: Jari-Matti Latvala (Ford Focus) – SS14: Henning Solberg (Ford Focus) – SS15: S. Loeb – SS16 : JM. Latvala – SS17 and SS18: M. Hirvonen – SS19: D. Sordo and Toni Gardemeister (Suzuki X4) – SS20: D. Sordo.
Day 3: SS21: P. Solberg – SS22: M. Hirvonen – SS23 and SS24: JM. Latvala – SS25: Aji Kim (Mitsubishi Lancer) – SS26 and SS27: M. Hirvonen – SS28 and SS29: P. Solberg.
Best performers: M. Hirvonen, 11 stages win – JM. Latvala, 4 – P. Solberg, 4 – D. Sordo, 3 (1ex) – S. Loeb, 2 – H. Solberg, 1 – T. Gardemeister, 1 (1ex) – A. Kim, 1. (SS3/7/8 cancelled).
Leaders: SS1 to SS29: M. Hirvonen.
Final leaderboard on 5th Rally Japan (14/15)* 1. M. Hirvonen/J. Lehtinen (Ford Focus) 3 h 25 min 03 s 2. JM. Latvala/M. Anttila (Ford Focus) + 31,1 s 3. S. Loeb/D. Elena (Citroen C4) + 2 min 30,6 s 4. C. Atkinson/S. Prevot (Subaru Impreza) + 3 min 42,4 s 5. PG. Andersson/J. Andersson (Suzuki X4) + 5 min 12,9 s 6. T. Gardemeister/T. Tuominen (Suzuki X4) + 6 min 09,4 s 7. M. Wilson/S. Martin (Ford Focus) + 7 min 05,3 s 8. P. Solberg/P. Mills (Subaru Impreza) + 13 min 19,9 s 9. F. Villagra/L. Perez-Companc (Ford Focus) + 15 min 40,8 s 10. J. Hanninen/M. Markkula (Mitsubishi Lancer) + 18 min 27,4 s
FIA World rally Championship's rankings 'Manufacturers' (round 14/15)* 1. Citroen-Total, 175 points – 2. Ford, 164 pts – 3. Subaru, 93 pts – 4. Stobart, 64 pts – 5. Suzuki, 28 pts – 6. Munchi's, 22 pts.
FIA World rally Championship's rankings 'Drivers' (round 14/15)* 1. S. Loeb, 112 points – 2. M. Hirvonen, 102 pts – 3. D. Sordo, 59 pts – 4. C. Atkinson, 50 pts – 5. JM. Latvala, 50 pts – 6. P. Solberg, 41 pts – 7. H. Solberg, 22 pts – 8. F. Duval, 22 – 9. G. Galli, 17 pts – 10. M. Wilson, 15 pts – 11. U. Aava, 13 pts – 12. F. Villagra, 9 pts – 13. C. Rautenbach, 9 pts – 14. T. Gardemeister, 8 pts – 15. PG. Andersson, 8 pts – 16. A. Mikkelsen, 5 pts – 17. JM. Cuoq, 2 pts – 18. M. Rantanen, 2 pts …/… 21. S. Ogier, 1 pt .