Second-place finish for Corvette duo Hezemans-Gollin
The ninth and penultimate round of the 2008 FIA GT Championship took place at the former Grand Prix circuit of Zolder in Belgium. Dutch-Italian pairing Mike Hezemans and Fabrizio Gollin were the best-placed Corvette team, finishing second with their Phoenix Carsport Racing entry. Their Swiss team-mates Marcel Fässler and Jean-Dénis Deletraz finished fifth in the closely-fought race.
Three Corvettes were entered for the Zolder round of the FIA GT Championship which marked the second event of the series to be held in Belgium following the traditional Spa 24 Hours in August. For the Selleslagh Racing Team, the event at Zolder was the home race with the number 3 Corvette C6.R being driven by Christophe Bouchut and Xavier Maassen. Phoenix Carsport Racing had Marcel Fässler and Jean-Dénis Deletraz driving the number 5 Corvette C6.R and Mike Hezemans and Fabrizio Gollin in the sister car with starting number 6.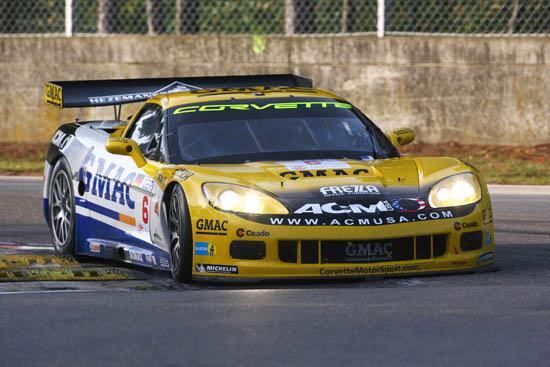 Originally, the two Phoenix Carsport Racing Corvettes had locked out the second row of the starting grid with Mike Hezemans third and Marcel Fässler fourth fastest. However, the driver who had posted the fastest time was penalized for not having slowed down sufficiently when yellow flags were being shown. As a result, the two Phoenix Carsport Racing Corvettes of Hezemans-Gollin and Fässler-Deletraz moved up to second and third on the grid respectively. In the hands of Dutch driver Xavier Maassen, the Selleslagh Corvette qualified fifth.
Unfortunately, the Selleslagh team didn't have much of a home advantage, their Corvette retiring halfway through the race due to technical problems. The two Phoenix Carsport Corvettes did well and were among the front runners for most of the race. Eventually, Hezemans and Gollin ended up second, Fässler and Deletraz finished fifth.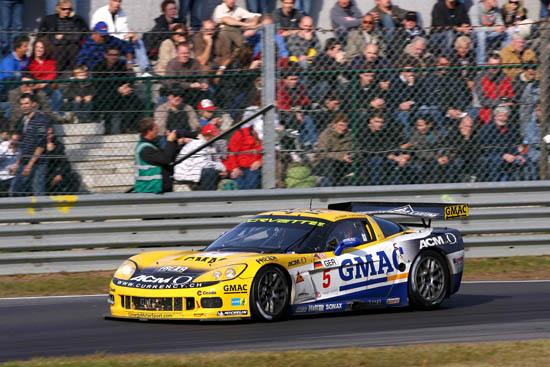 In the FIA GT points' standings after nine rounds, Hezemans/Gollin remain second with 58 points. The battle for the title will be decided in the final race of the season. Fässler/Deletraz remain fourth with 45.5 points, Bouchut/Maassen remain seventh with 32.5 points.
The tenth and final round of the FIA GT Championship will be taking place at the circuit of San Luis in Argentina, November 23rd.