Size Matters - Semi Truck Gymkhana [video]
Here is an interesting video with a semi truck drifti at the Gymkhana – Ken Block's favourite playground. The famous rally driver has already shown his tallent in drifting and now it is turn to Stun Man Mike Ryan, who has driven this truck to 12 Pikes Peak Hill Climb Championships.
The race truck is powered by Detroit Diesel Series 60 engine with 1950HP and more tha 3400 lb-ft ot torque. The vehicle weighs 4 515 kg (9 955 lbs). The tires are Handmade Michelin X-1.
To drift a truck is heroic, but Mike Ryan makes it looks rather easy.
The track is built around the El Toro Marine Base in CA and the video clip was directed by Greg Tracy and BANDITO BROTHERS PRODUCTIONS.
Enjoy the video!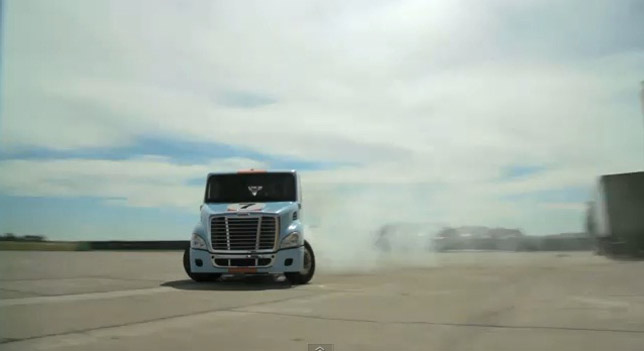 Source: Autoedit via Youtube