Skoda Celebrates 40 Years At Rally Bohemia With Two Special Fabia Super 2000s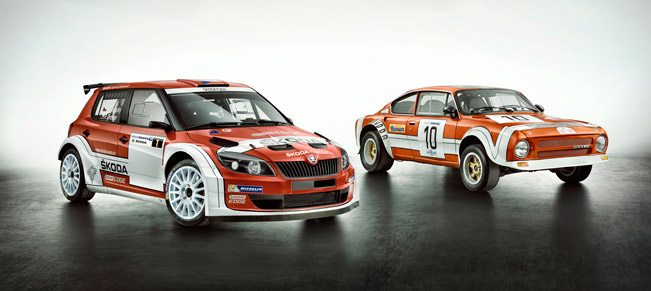 Two Skoda Fabia Super 2000 in 1974 race livery are getting prepared for the Rally Bohemia. This is where the company will celebrate its 40 years presence at the Rally Bohemia. The two vehicles that will race on the track are to carry the same livery as sported by the historic Skoda 180 RS and Skoda 200 RS rally cars. The cars will be driven by Jan Kopecký and Sepp Wiegand. Rally Bohemia will take place this weekend in the region around the city of Mladá Boleslav.
In fact, it is exactly the 40th birthday of the historic Skoda 180 RS and 200 RS. The two spectacular rally cars raced for the first time in June 1974. Their debut came at the Rally Skoda; ad exactly 40 years later, the current Fabia Super 2000s will feature the same livery as theirs.
180 RS and 200 RS are considered to be the founders of company's successful RS history. Since 2000, the manufacturer has resurrected this tradition with RS versions for end user models.The RS stands for 'Rally Sport' and the fastest and most powerful production Octavia is Octavia RS.
Rally Bohemia has not only a historic significance for Skoda, but also it is important to it in terms of the brand's future motorsport activities. For the first time, the European Championship leader Esapekka Lappi will test the new 1.6-litre turbo engine for the new Fabia R5 under race conditions. R5 will be equipped with the aforementioned engine in accordance with FIA regulations. This is the car will be used for competition in the R5 category at international rallies as of 2015.
Rally Bohemia will happen this weekend. There will be twelve special stages over an entire distance of exactly 150.66 kilometres. In fact, the Rally Bohemia is part of the International Czech Championship and Skoda is the main sponsor of the event.
Source: Skoda