Smart Fortwo: America's most economical car
The American environmental authority EPA (Environmental Protection Agency) has put the smart fortwo at the top of its current list of the most economical cars without hybrid drive. The US authority confirms independent European studies that had already established the clever two-seater as the most economical car.
According to findings by the American environmental authority EPA, the smart fortwo boasts the best fuel efficiency of all vehicles without hybrid drive approved for the USA. In addition, the two-seater already exceeds the US standards for fleet consumption (CAFE = Corporate Average Fuel Economy) which are planned for 2020 and it has already been classified as an ultra-low emission vehicle (ULEV) in California.
The model available in the USA with 52kW/71 hp and the current smart fortwo mhd models with 45 kW/61 hp and 52 kW/71 hp consume 4,3 litres of fuel per hundred kilometres (CO2 emissions of 103 g/km). The smart fortwo cdi with a 33 kW/45 hp engine is, with a combined consumption of 3.4 litres per hundred kilometres (NEDC), still the most fuel efficient series production vehicle worldwide and with emissions of 88 g /km remains CO2 Champion. At the same time they take up an unrivalled small amount of road and parking space and yet bring two people including luggage to their destination very comfortably and extremely safely. In this way smart provides a unique answer to many questions concerning individual urban mobility.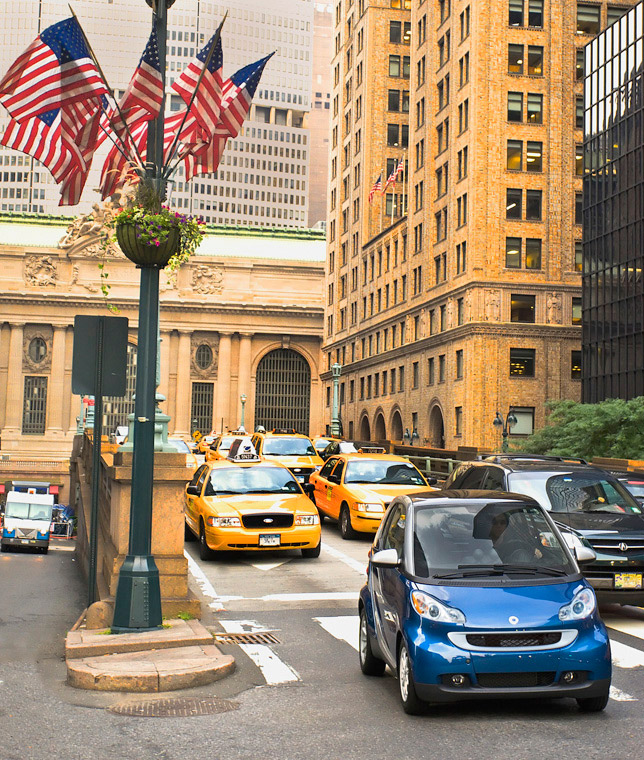 Thanks to its outstanding features and its fresh design that combines functionality with joie de vivre, the smart fortwo has become a sought-after cult car in many countries. The sales figures also demonstrate this. Since the start of 2008 the number of smart fortwos delivered to customers worldwide rose by 53 percent to 101,900 cars. In the USA, 19,000 smart fortwos have already been delivered to customers since its launch in January 2008.