Subaru's Lean, Green, Recession-Busting Machines
Subaru's award-winning Boxer Diesel engine – now available throughout the Legacy, Outback and Forester model range – offers the perfect fast, fun and frugal automotive experience for the current economic climate.
Lean (50.4mpg for the Legacy Saloon, 44.8mpg for the Forester), green (148g/km for the Legacy 2.0D R, 167g/km CO2 Forester 2.0D X) and with a class-leading insurance rating of 9 for the Forester X/XC, the Boxer Diesel engine is the perfect engine for modern motoring; offering an unrivalled blend of performance and economy.
Top Gear presenter, James May recently discovered the multiple delights of the Boxer Diesel for himself, on a televised European road trip from Basel to Blackpool.  Managing to get a Legacy 2.0D REn Sports Tourer to return an astonishing 63mpg, he made full use of the enormous 700+ mile range this engine can offer; perfect for efficient cross-country coverage.
No other competitor in class can match either the Legacy 2.0D R's 50.4mpg, or the Forester 2.0D X's combined 44.8mpg for fuel economy, nor can they better the engine's class leading, green CO2 ratings, meaning annual Road Fund Licences are also kept low, at just £120 for the Legacy and £170 for the Forester.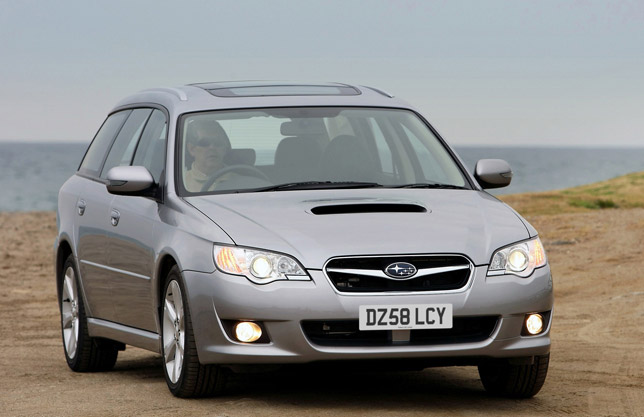 It's the ultimate recession-busting model range from Subaru.
Coupled with Subaru's tried and tested, WRC-derived, brilliant symmetrical All Wheel-Drive system and the notoriously lightweight, low centre of gravity Boxer engine/transmission layout, the innovative Legacy and Forester Boxer Diesels are in a league of their own – offering a unique, economical, refined, stylish and engaging driving experience.
And with 147PS (Forester) to 150PS (Legacy) and a thumping 350Nm (258lb.ft) of torque on tap from the world-first common-rail, direct injection, horizontally-opposed engine, Subaru are proving you can have your cake and eat it – offering both great performance and economy. And let us not forget the Boxer Diesel engines' exceptional smoothness, throttle response, refinement and rigidity, revolutionising people's attitudes to diesel power.
Lawrence Good, Managing Director, Subaru (UK) Limited, said: "The significance of this outstanding new Boxer Diesel engine to both sales opportunities and our dealer network cannot be overstated.
"With a UK diesel market share now running at 40 per cent this is the answer to many loyal and potential customers' future motoring needs."
Prices for the Legacy start at £19,995 and the Forester starts at £20,295, on-the-road.