Successful Monte Carlo Rally Premiere For Skoda Motorsport Team
The Škoda Motorsport factory team presented two Fabia Super 2000 racing cars at this season' s first IRC  event, entering a new stage of their Fabia Super 2000 project after nearly two years of development work. Driven by Finns Juho Hänninen and Mikko Markkula and Czechs Jan Kopecký and Petr Starý, respectively, the cars had to cope with challenging conditions including rough weather and have shown that Škoda Motorsport has developed a competitive racing car. The results and performances put in by both drivers, especially over the first two days of the event, are considered very positive and beneficial for further work on the Fabia Super 2000 project.
Finland's Juho Hänninen was first after the first day, Jan Kopecký, despite technical problems in the first speed test, quickly fought his way up from the 24th place after that test to finish tenth in the end.
On Day 2 the event moved to snow-covered roads near Valence where both Škodas did well again, coming first in four speed tests of altogether six - Juho Hänninen three times and Jan Kopecký once. Moreover, when Jan finished second after his team-mate in one of the tests, the team was applauded by fans for achieving a "double". However, the Finn had back luck in the last speed test of that day, falling down to the third place after one of his tyres got punctured. Continuing his way up, Jan Kopecký finished seventh.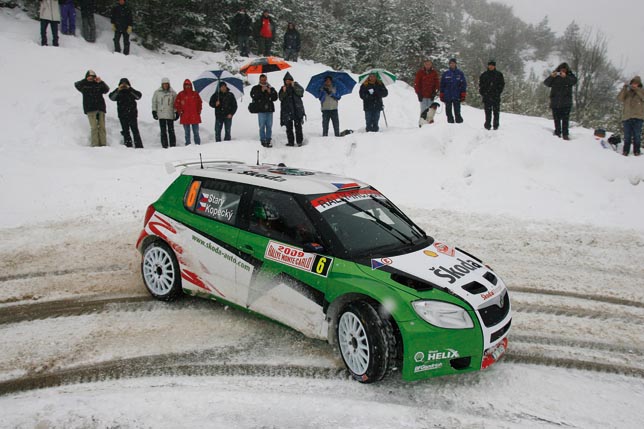 The final part of the event brought the teams back to Monte Carlo. Although Juho Hänninen had to give up after an accident, he has shown that his experience is a great asset for Škoda Motorsport and that he is a good choice for the Fabia Super 2000 vehicle and the entire team. His performance at Stage 2, including three speed test wins, drew massive attention from both fans and media. Continuing his catch-up mission, Jan Kopecký put in another good performance and finished fourth in the total rankings.
Commenting on the factory team's Monte Carlo Rally performance, Head of Škoda Motorsport Michal Hrabánek said: "In the first place, we are glad to have successfully completed this important stage of our vehicle development project and opened the door to a new one. The Fabia Super 2000 project is running on two complementary levels, racing and sales. We have certainly made a competitive car that is prepared to compete with the best in its class, and I also consider the team's performance at this year's Monte Carlo Rally good. I daresay we have shown our strength, but there's still a lot of work ahead of us and we have to work as hard and efficiently as we have been working so far and never lose respect for our competitors. I wish to thank all of the team members, i.e., the crews, mechanics, engineers and other people involved for excellent teamwork, and believe that this Monte Carlo premiere will motivate all of them to continue working hard. I also believe that we have done a great job in terms of promoting the Škoda brand. Our further racing agenda will depend on detailed analysis of the Monte Carlo Rally performance, but our plan to take part in a further five events of the 2009 IRC series remains unchanged for the time being."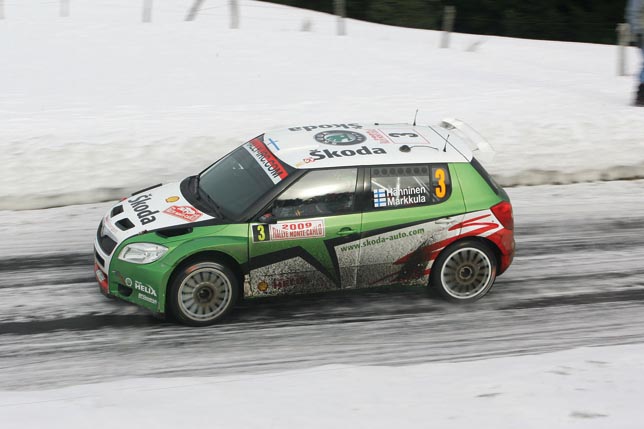 Summarising the whole competition, Juho Hänninen said: "Everything was going my way until Friday morning. I was surprised how fast I was able to go - the technicians did an excellent job and the car was working perfectly. Our tyre choices were very good, too, mainly thanks to my "on-track spies". I believe that the car's future results will be very good and that this event has shown its great potential. However, a lot of hard work is still ahead of us. I am sorry to have been too fast in Friday's speed test, I simply pushed it too hard as I wanted to make up for my one-minute loss. It's a pity, as the entire team has done a fantastic job here."
Finishing fourth in the total rankings and getting five points in the driver competition, Jan Kopecký was more than happy: "The Fabia Super 2000 has shown how fast it is, and it's apparent that the direction we have set is good. All the kilometres done in last year's tests are an important factor behind this success. I wish to thank the whole team and the Škoda company for helping us move this project ahead, as well as the Czech fans along the roads for supporting us loudly."