Sun-Kissed Silverstone Hosts Memorable World Series by Renault
World Series by Renault lit up Silverstone Grand Prix circuit as Renault's free festival of motorsport made its debut at the home of the British Grand Prix this month. A total crowd of 110,000 enjoyed a thrilling weekend of action-packed racing, high-speed demonstrations by ING Renault F1 Team and its driver Romain Grosjean and parades of historic Renault race and rally cars.
The free event, held on 7th /8th June, one month in advance of the British Grand Prix, gave UK motorsport fans a rare opportunity to see a Formula One car in action for free. In addition, open access to the paddock allowed them to get up close to the car, the ING Renault F1 Team R27 as raced during the 2007 Formula One World Championship, and meet driver Romain Grosjean, a member of the Renault Driver Development Programme.
Commenting on his appearance at Silverstone, Romain Grosjean said: "It is a great circuit and packed grandstands make it very special. As a racing driver I'm always trying to go as fast as possible but it's good to do a few 'donuts' for the crowd because they enjoy seeing that. World Series has become a very big event and I'm very pleased to be a part of it."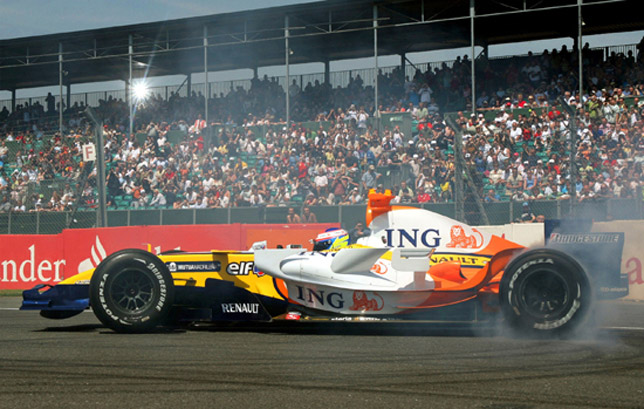 Off-track fun for all
The thousands of spectators also took advantage of the off-track entertainment in the paddock with every attraction proving popular. Among them, multi-screen ELF Formula One simulators invited potential stars of the future to race on the Silverstone Grand Prix circuit, a pit-stop challenge allowed fans to test their reflexes and teamwork and there was the opportunity to explore a range of Renault and Renaultsport road cars, including a surprise debut of a UK-specification Twingo Renaultsport 133.
On-track, racing action filled much of the programme on Sunday with the headline 500hp Formula Renault 3.5 series seeing wins for Mexican Salvador Duran and Robert Wickens. Of the British drivers, James Walker finished 10th and 12th, reigning Formula Renault UK champion Duncan Tappy was 16th and 21st, while Pippa Mann was 19th and 20th.
The Eurocup Mégane Trophy Series saw great racing among the 330hp saloon-cars, while in Eurocup Formula Renault 2.0 there was further British interest with a best result in the first race by Welshman Alex Morgan in seventh followed by Adrian Quaife-Hobbs' ninth place in race two.
The Formula Renault UK with Michelin Championship and ELF Renault Clio Cup each enjoyed two races on Sunday. For national-level racing drivers it was an extremely rare chance to compete on the Silverstone Grand Prix circuit and a unique setting in terms of the packed grandstands. Brazilian Adriano Buzaid took two wins in the Formula Renault UK Championship, while Jonathan Adam and Ben Winrow shared the Clio Cup victories.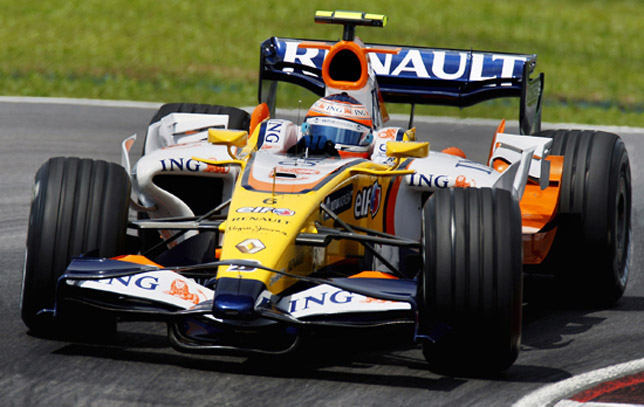 Historic F1 on track
Renault's heritage was celebrated in four exhibitions by its Histoire et Collection cars and drivers, including Rene Arnoux in the Renault RE40 Formula One car and Jean Ragnotti in his famous R5 Tour de Corse. The historic cars mixed high-speed laps with exaggerated slides that drew a great reception from the hugely appreciative crowd.
Commenting on the weekend, Renault UK Press and PR Director Tim Jackson, said: "World Series by Renault is now established as the second largest motorsport event in the UK behind the British Grand Prix and we're delighted to be at Silverstone for the first time. I'm sure our guests have enjoyed the weekend and everything we had to offer and hopefully we now have many more British motorsport fans."
"Many of the single-seater drivers have hopes of one day racing at Silverstone in Formula One so for them it is a fantastic opportunity to experience the circuit. Spectators have seen tremendous racing throughout the weekend and we look forward to welcoming them back next season."