TeamVodafone will race Holden Commodores
Reigning V8 Supercar and three-time Bathurst 1000 Champions, TeamVodafone, and its drivers, Craig Lowndes and Jamie Whincup, will race Holden Commodores from 2010. Holden Executive Director Sales, Marketing and Aftersales, Alan Batey made the announcement at a press conference held at GM Holden headquarters in Melbourne today.
"Holden has a long and proud history in motorsport that stretches back over 40 years and today's announcement is an exciting step into the next chapter," Mr Batey said. "Our commitment and passion for motorsport has not waived. Today we are making a clear statement on how much we value this sport which is also a very smart, responsible sponsorship decision. We are very excited about working with TeamVodafone and are thrilled to welcome back both Craig Lowndes and Jamie Whincup to the Holden family."
TeamVodafone was formed out of the UK-based Triple Eight Race Engineering, winning multiple British Touring Car Championships with the factory GM Vauxhall team. In its five short years in the V8 Supercar Championship Series, TeamVodafone has evolved from series debutants into the category powerhouse.
From 2004 to the end of last season, TeamVodafone had scored 12 pole positions, won 24 championship rounds and 38 individual race victories, including three straight Supercheap Auto Bathurst 1000 titles and the 2008 V8 Supercar Driver and Teams Championships. In 2009, TeamVodafone has continued its impressive run scoring three pole positions, winning nine out of 12 races year to date and again leading both the Driver and Teams Championships after six of 14 Championship events.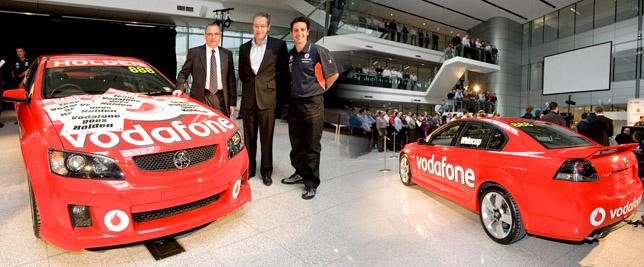 "We are delighted to join the Holden family," TeamVodafone Managing Director, Roland Dane said. "Triple Eight Race Engineering started running with General Motors in the UK, winning many races and Championships, and it was only an anomaly due to circumstances that we did not race Holdens when we began in V8 Supercars. I have always wanted to put that right when the opportunity arose, which it now has."
Dane said its association with GM was quite emotional. "Although our relationship with GM in Europe is due to end, again due to circumstances, we recognise that we would not have got to where we are without them. It is an emotive topic for Triple Eight and we feel that as we have 'grown' with GM that we should continue to 'live' together with them, here with Holden."
Last week Dane confirmed that the team had re-signed with major naming rights sponsor Vodafone for another three years, and that Lowndes and Whincup would also be with the team through to the end of the 2012 season.
Reigning V8 Supercar Champion Jamie Whincup said he was excited by the prospect of returning to Holden.
"Personally, I am very excited, I started my V8 Supercar career in Holden teams and didn't quite get the results I wanted so now I have the chance to rectify that," Whincup said. "Triple Eight is a cohesive and dedicated team and I am very confident that we can continue to record similar results when we climb aboard our new Commodores to start the 2010 season. I look forward to working with Holden and hope that we can shoot for further championship success together."