Ten top reasons to visit the 2008 Goodwood festival of speed
In just over one week the 2008 Festival of Speed (11-13 July) will get underway with around 150,000 excited motor sport enthusiasts coming to see their favourite star cars and drivers in action.  The Festival of Speed is firmly established as the world's greatest celebration of automotive culture with something to offer for every taste. There are thousands of reasons to visit the 2008 Goodwood Festival of Speed – below are just ten highlights:
The theme of this year's Festival is 'Hawthorn to Hamilton – Britain's Love Affair with World Motor Sport.'  Britain has always played a key role in the global motor racing industry, forging successful relationships with the rest of the motor sport world.  From Mike Hawthorn – who used a Ferrari to become Britain's first Formula 1 World Champion fifty years ago in 1958 – to current F1 star Lewis Hamilton, driving a British engineered car with German power, British drivers and engineers have utilised global resources to achieve success. The 2008 Festival honours these winning combinations.
Contemporary Formula 1: No less than six of today's very best F1 teams will be at the Festival of Speed, with acclaimed current F1 drivers such as Lewis Hamilton, Jenson Button and Sebastian Bourdais in attendance.  A number of previous F1 heroes, including Sir Stirling Moss, Sir John Surtees and Damon Hill will also be tackling the challenging 1.16-mile Goodwood hillclimb course.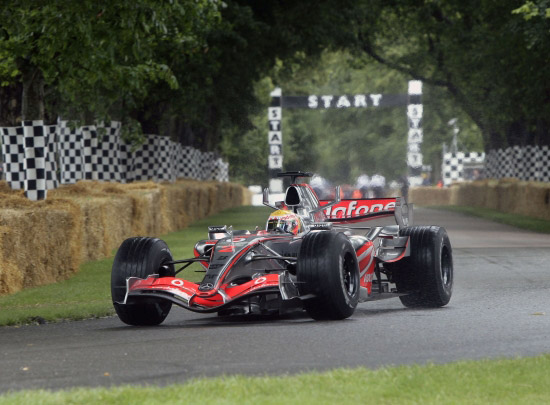 Forest Rally Stage: Current WRC teams will join more than 40 historic rally cars on the enhanced Goodwood Forest Rally Stage.  Expect to see plenty of gravel-spitting sideways action from current WRC heroes such as Petter Solberg and Chris Atkinson in the new hatchback Subaru Impreza WRC, as well as Ford Focus WRC drivers Mikko Hirvonen and Matthew Wilson, and rallying past masters, including Juha Kankkunen, Timo Makinen, Bjorn Waldergard, Martin, Hannu Mikkola, Stig Blomqvist and Gwyndaf Evans showing how it used to be done.  A special tribute to rallying giant Colin McRae will feature at the event, including a paddock full of the machines that made him famous, such as his Subaru Impreza and Ford Focus WRC, along with lesser-known vehicles that he drove, including the Le Mans Ferrari 550 Maranello GTS and Jordan-Peugeot 196 F1 car.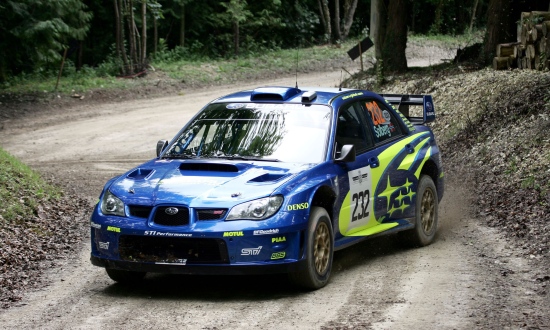 Motorcycles: A who's who of riders and bikes will be in attendance at Goodwood, with huge names such as Carl Fogarty, Troy Corser, Mick Doohan and Yukio Kagayama set to entertain the Festival crowds.  Motorcycle highlights include the ex-Barry Sheene 1975 Suzuki XR14 RG500, ex-Mick Grant 1981 Yamaha OW53 YZR500 and ex-Randy Mamola 1989 Cagiva, as well as modern era bikes such as the Alstare Suzuki GSX-R1000, BMW HP2 Sport, HM Plant Honda CBR1000RR and the Rizla Suzuki GSX-R1000. Twelve-time international trials champion Dougie Lampkin will also be popping up all over the Goodwood Estate throughout the Festival weekend, riding on things that he shouldn't.
Key Displays: Although still under wraps, this year's extravaganza of automotive art directly outside Goodwood House will celebrate the diamond jubilee of Britain's most travelled car marque – Land Rover.  At over 35 metres high, this central feature will be one of the Festival's largest and most ambitious yet, towering above Goodwood House, and visible from many miles away.  In fact it is so tall that a red warning light has been fitted to alert any passing low-flying aircraft, including a flypast of the huge Airbus A380 'superjumbo' on Saturday, and the Red Arrows air display team that will be performing at the event on Sunday.  The Goodwood Cricket Pitch, the oldest in the world, will house a dozen top-fuel dragsters from the 1950s and 1960s with a twice-daily 'cacklefest' as these ultra-powerful machines fire up.
Cartier 'Style et Luxe': This prestigious annual homage to the finest in automotive design will this year include many of the extraordinary cars used by James Bond, including his iconic Aston Martin DB5 and Lotus Esprit, positioned on a special 007 film set.  Other Cartier displays will range from the Ford Model T, celebrating its centenary, to the priceless supercharged coachbuilt pre-War Mercedes-Benz.  Expect to see some ultra-rare supercars from the 1960s to the early 1990s, including the beautiful Alfa Romeo Tipo 33 Stradale and Audi AVUS.
The Sunday Times Supercar Run: A multi-million pound collection of the world's most desirable contemporary exotica will be demonstrated on the Hill.  Watch out for debuts of the stunning Bugatti Veyron 16.4 'Hermes' and Aston Martin V12 Vantage RS being put though their paces, plus the first UK sighting of the new Artega GT, Nissan GT-R and Mazda Furio concept in action.
FoS-TECH: A recent Festival feature, this state-of-the-art technology exhibition focuses on the future of motoring and environmental issues in a series of interesting new initiatives and displays.  FoS-TECH will showcase a variety of exciting new technologies from motor manufacturers, design specialists, oil companies and other motor industry suppliers, with exhibits of concept cars not seen in the UK before, including the Land Rover LRX, Toyota i-REAL, Morgan Lifecar, and the amazing Parajet Skycar, the world's first and only flying carbon neutral automobile.
Junior Festival of Speed: Something to keep kids of all ages entertained, with masses of things to do, from discovering the latest Wacky Racers to big fun in the Big Top circus tent.  The UK's number one mountain bike stunt team, MAD, will amaze all, as will Rarekind, Britain's only graffiti art gallery. And the live music is worth the ticket price alone, including the Ford Focus Orchestra making its Festival debut, playing instruments made from the parts of Ford Focus cars.
A Great Spectator Occasion: What Wimbledon is to tennis, and Henley is to rowing, so Goodwood is to motor sport, having quickly established itself as the place to be every summer to see the very best that motor racing has to offer.  No other motoring event can match the unique combination of more than 350 vehicles and over 100 motor racing heroes, blasting up the drive of one of England's most revered stately homes.  Enthusiasts can enjoy watching a celebration of 50 years of BTCC and Lola racing cars in action, plus 40 years of racing F1 McLarens and Ford Escorts.  No wonder the Festival of Speed has often been described as 'the Garden Party of the Gods.'
Festival entry is by advance ticket only, with a limited number of tickets still being available.  A handful of grandstand seats for Corner Grandstand are also still available, although selling fast.