Tesla roadster makes royal visit to kensington palace
His Royal Highness Prince Michael of Kent has become the first member of the British Royal Family to get behind the wheel of the new Tesla Roadster, the first electric sportscar to go on sale in Europe. The Prince put the car through its paces within the grounds of his London residence, Kensington Palace, the same model which made a star appearance at the British International Motor Show.
The Prince is a keen and long term supporter of the motor industry in the UK and takes a personal interest in the development of specialist cars. He was particularly encouraged by the zero-emission technology being developed by Tesla Motors.
Darryl Siry, senior vice president of sales, marketing and service, Tesla Motors said: "It is a privilege for His Royal Highness Prince Michael of Kent to experience the Tesla Roadster. The car is representative of the values that he places on environmentally friendly and efficient vehicles, as well as his attitudes towards improving road safety".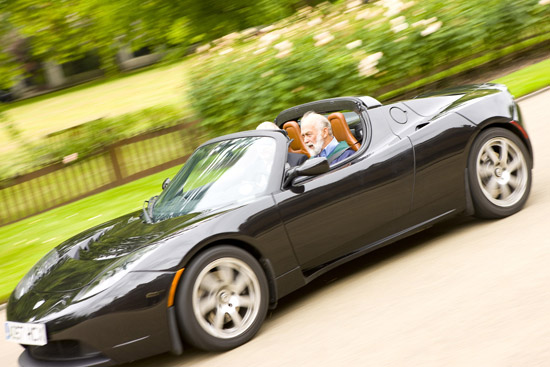 In keeping with his recent test-drive of the Roadster, Prince Michael showed even more of an interest in the vehicle by visiting Tesla Motors in the Co-operative Insurance Greener Driving Pavilion & EV Village, at the British International Motor Show in London, where he was formally greeted by Senior Tesla personnel.
With a 0 to 60 mph acceleration of 3.9 seconds, a 13,000 rpm redline, and the fastest top gear acceleration of any production car tested by Car & Driver magazine in 2007, the Tesla Roadster is unique in providing super car performance, zero emissions and extraordinary efficiency.