The 55 MPH Carpool Deville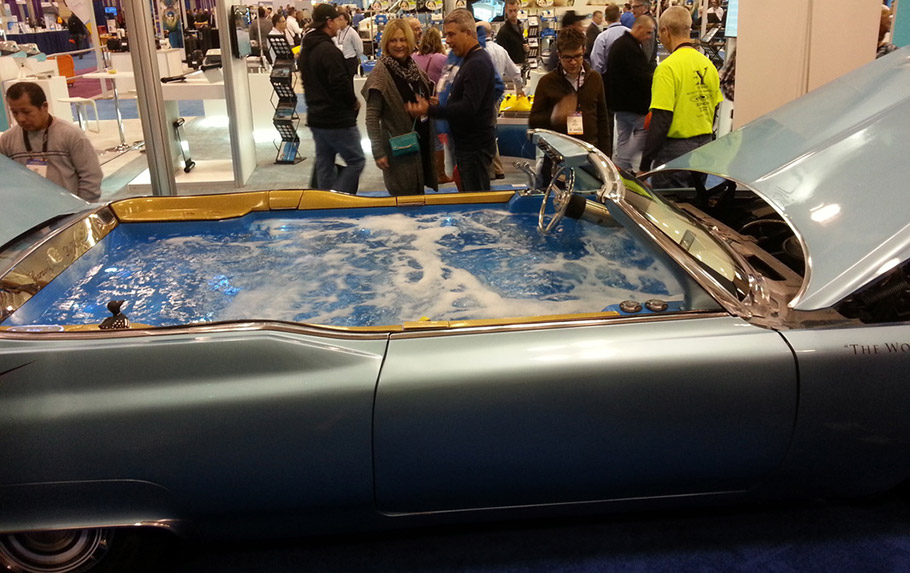 Some people do odd things and this is a very good example. In 1999, Phillip Weicker and Duncan Forster, two Canadian mechanical engineers, took a 1969 Cadillac DeVille and built it into a drivable hot tub. Yes, an actual hot tub that could be driven on the road. Now keep in mind, there have been big Las Vegas-style  limos that have had hot tubs installed in them but this was quite different.  This was an actual drivable hot tub. Many thanks to Jaguar of Naperville, Naperville, IL, a full-service Jaguar dealer for their help with this unusual story.
It all started back in 1996 when Weicker and Forster were attending McMaster University in Hamilton, Ontario (Canada).  Presumably after drinking a lot of fine Canadian beer, the two engineering students decided to do something different: take an abandoned 1982 Chevrolet Malibu and turn it into a hot tub - a fully operational, drivable hot tub. With their concept fleshed out they immediately went to work. It only took a few months but they accomplished their goal and built the vehicle. As you can imagine, it didn't take long before Weicker and Forster's drivable hot tub had become a well-known entity at McMaster University.
Fast-forward several years and both Weicker and Forster have graduated from McMaster University.  Both were working as professional engineers and stayed in touch.  As what sometimes occurs to those born with insatiable creative drives, the desire to make it "bigger and better" crystalized.  After many discussions, again presumably after drinking a lot more Canadian beer, the two developed the "The Carpool Deville" concept.
The Carpool Deville concept was simple. The 1982 Chevy Malibu was a suitable hot tub project when the two were in college but it really wasn't large enough to hold a real party in. The solution, of course, would be to build a substantially larger, drivable hot tub. This would require a much larger car. So they purchased a low mileage 1969 Cadillac DeVille. This was a good sized vehicle and looked like the perfect platform for their new mondo-sized hot tub.
The first thing they did with the Cadillac was to gut it. The interior was removed and an elaborate custom fiberglass tub was designed and installed. This was a major part of the construction and it took several months.  To drive the vehicle, marine-style steering wheel, gauges, and throttle controls were fitted. The factory-installed 427-cubic inch V8 was rebuilt and serves two important purposes: propelling the DeVille and heating the pool water to a toasty 102 degrees. The trunk has even been modified to hold the air-ride system, pool filter, pump, and various electronic sub-systems.  They estimate that over 1000 hours of work were invested in their remarkable creation.
Since the completion of the Carpool DeVille, both engineers have become minor on-line celebrities and emblematic of what can occur when you think creatively.  Those who said that "a hot tub capable of 55MPH was just a dream" were proved wrong – very wrong. Let's face it, these two persistent engineers have made automotive history.  Ok, it's sort of odd history but it's still history.  The guys at Ripley's just love it.
Image Source: worldsfastesthottub.com