Three 911 GT3 RSR between palms and yachts
The American Le Mans Series extends its stay in Florida: After the season-opener at the 12 Hours of Sebring, round two of the race series with the world's fastest sports cars takes off on Saturday in the Sunshine State of the USA – on the downtown street circuit of St. Petersburg.
Diversity is guaranteed: The race between palms and yachts on the Gulf of Mexico runs over just 1:55 hours and poses a very different challenge for drivers and teams compared to the long distance classic in the heart of Florida. "Such a street circuit is unforgiving with errors. You have to drive very precisely and concentrate totally from start to finish," says Porsche works driver Joerg Bergmeister (Germany), who shares driving duties in the Flying Lizard Motorsports 911 GT3 RSR with Patrick Long (USA). Manning the second 911 GT3 RSR of the US customer team are Darren Law (USA) and Seth Neiman (USA).
The German duo Wolf Henzler and Dirk Werner compete for Farnbacher Loles Racing. In Sebring the pair planted their 911 GT3 RSR on pole. "If we could do this again we would have a great advantage," said Wolf Henzler, who last year secured the title with Joerg Bergmeister. "On this narrow and twisty circuit it's hard to overtake and that's why it's particularly crucial to get a good grid position here."
The race takes off on Saturday, 4th April, at 13.20 hours local time (19.20 hours CET) and runs over 1:55 hours.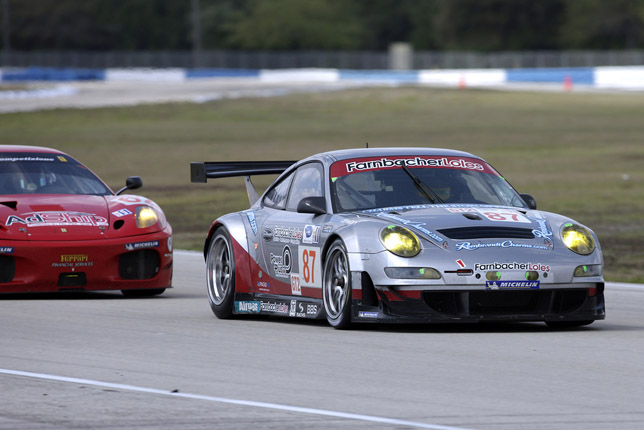 Facts and Figures
This is the American Le Mans Series
The American Le Mans Series was created in 1999 and offers fans exciting sports car racing. The regulations correspond to those of the Le Mans 24 hour race. Ten races in the USA and Canada make up this year's calendar. Traditional highlights are the Sebring 12 hour race and the 1,000 mile Petit Le Mans at Road Atlanta. Most races run over 2:45 hours. The ALMS is the American counterpart to the Le Mans Series (LMS) in Europe.
The starter field is made up of two different race car categories: Sports prototypes and standard sports cars. These are divided into four classes:
LMP1 class: Sports prototypes with up to 700 hp and a minimum weight of 900 kilograms. Power to weight ratio: ca. 1.3 kg/hp. LMP2 class: Sports prototypes with around 445 hp (normally aspirated engine) and an 850 kilogram minimum weight. Power to weight ratio: ca. 1.9 kg/hp. GT1 class: Heavily modified standard sports cars with up to 650 hp and a minimum weight of 1,125 to 1,325 kilograms. GT2 class: Slightly modified standard sports cars with approx. 450 hp and a minimum weight of 1,145 – 1,345 kilograms. The Porsche 911 GT3 RSR competes in this class.
All race cars start together but are classified separately. This system ensures varied and exciting racing with tough fights for positions and many overtaking manoeuvres. Points are awarded only for placings in each class. After 2006 and 2007, Porsche again won the championship titles in the LMP2 class last year for Drivers (Timo Bernhard/Romain Dumas) as well as for Chassis and Engine Manufacturer and for Teams (Penske Racing) with the RS Spyder. In the GT2 class, Porsche secured the championship titles for Drivers (Joerg Bergmeister/Wolf Henzler) as well as for Manufacturers and Teams (Flying Lizard Motorsports)