Timo Scheider still in the lead
With a cleverly clinched second place, Audi driver Timo Scheider defended his overall DTM lead at Barcelona. Before the last two rounds, the 29-year-old German has a seven-point advantage over the Scot Paul di Resta and thus the chance of securing the champion's title early at the next race at Le Mans on 5 October.
In summer temperatures of 26 degrees in the shade Scheider won the starting duel against the quickest in qualifying, Bernd Schneider, and entered the first turn as the front runner. Up to the 19th lap he maintained his position in front of the subsequent winner, Paul di Resta, before the latter squeezed past the DTM leader with slight body contact. Scheider chose not to massively defend himself in order to keep from jeopardising his second place and thus the eight valuable points awarded for a second-place finish.
"Looking at it realistically, second place was our maximum today. Paul (di Resta) was a little too strong for us here. He had to attack because he's in the role of the rival chasing the front runner", says Timo Scheider. He thus managed the leap onto the podium for as much as the sixth time this year.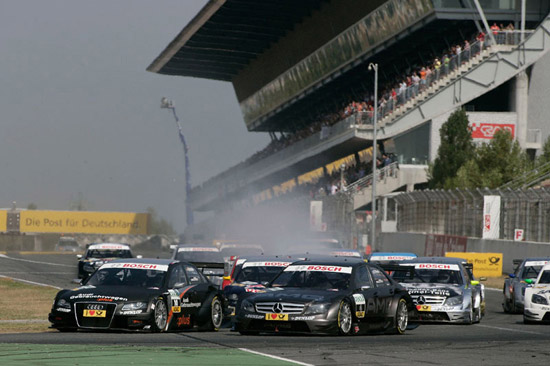 Title defender Mattias Ekström crossed the finish line in fifth place, but was later excluded after a tussle with Mercedes driver Jamie Green on the last lap. Green was also penalized. In the starting commotion Ekström's A4 had lost important rear aerodynamics components, which deprived him of the chance to attack more forcefully and to advance further.
Before the last two races of the season at Le Mans (5 October) and Hockenheim (26 Oktober) four drivers - Timo Scheider (62 points), Paul di Resta (55), Jamie Green (47) and Mattias Ekström (44) – still have chances of winning the title. In the teams' standings Audi Sport Team Abt is the runner-up with a two-point gap.