TomTom Work lands 1500 vehicle deal with Scotia Gas
TomTom WORK, the business-to-business division of TomTom, has won a contract to supply a vehicle navigation and tracking solution covering 1500 vehicles operated by Scotia Gas Network (SGN).
SGN is a major UK gas distribution company supplying 5.7 million homes and businesses across a wide swathe of the South East of England and throughout Scotland.
The system, which will be progressively rolled out over 18 months, is expected to bring major benefits to the company and its customers by:
improving call-out response times, particularly in emergencies;

bringing added flexibility to the management of SGN's large field engineering team;

eliminating unnecessary travel leading to reduced fuel usage and a lower environmental impact; and

protecting assets and aiding recovery should a vehicle be stolen.
The connected navigation solution being provided by TomTom WORK is based on each vehicle being fitted with their Link 300 vehicle tracking device and a GO satellite navigation screen.
The GO unit determines the best route to a location and guides the driver there with both a 3D map view and spoken instructions. The system is constantly updated to include potential hold-ups resulting from roadworks and traffic congestion. Its use will also contribute to safer driving by removing the need to consult paper maps or written instructions.
The LINK 300 box feeds information between the vehicle and the control room through TomTom WORK's unique WEBFLEET system. This enables the control room to allocate jobs to an available engineer who is nearest to the location of the task. This, along with the precise navigation information provided by the GO unit, will reduce wasted mileage as well as improving customer response times.
Malcolm Russell, Director of Operations at SGN said that he is confident that the system will bring added efficiency and flexibility to its operations as well as potential cost savings. "We selected the TomTom WORK solution because of its ease of use and implementation in a fleet of our size. It will be of great help to our control room staff in responding more effectively to customer calls and it will improve the safety of our engineers when driving between jobs.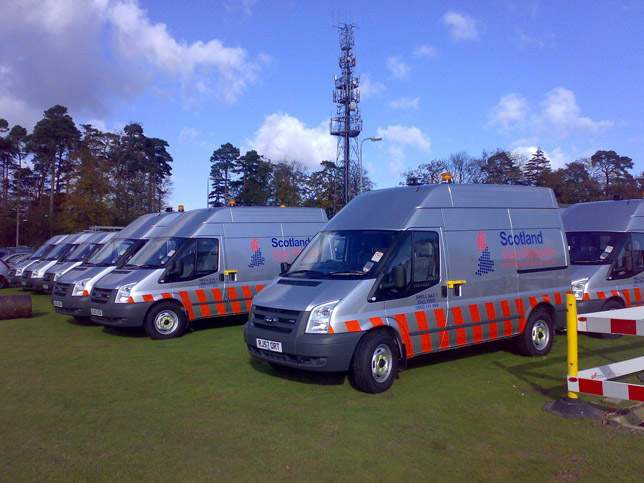 "An important feature is the ability to add onto the system information that is unique to us. We are now working closely with TomTom to customise the system to include such things as the precise location of key elements of plant that we may need to access quickly, perhaps in the dark, and sometimes by engineers who may not be familiar with the area in which they have to operate."
Jeremy Gould, Sales Manager of TomTom WORK, said: "We are delighted that SGN has chosen TomTom WORK to provide a connected navigation system that will contribute to maintaining and improving the high level of their customer service. We look forward to working with them to further refine the information provided by WEBFLEET to meet their needs as the project unfolds."