Top Cars cross borders
BCA in Germany is harnessing Pan-European demand to remarket high value cars
Although Top Car sales featuring high value prestige, executive and sporting cars are a familiar fixture of BCA's sales programme in the UK, they are a new initiative in Germany where BCA Autoauktionen has just staged the first sale.
The sale took place in BCA Neuss (near Dusseldorf) and a total of 124 vehicles were entered by a wide range of vendors including Mercedes Benz, BMW Financial Services, Nissan Germany and Santander Bank.  All cars were pre-sale prepared to the highest standards by BCA Smart Prepared.
The sale was widely promoted via BCA's European country websites, with the offer of Live Online or Cyber Cafe participation for any European dealers unable to travel to Neuss.  The catalogue included detailed inspection and damage reports and was produced in nine different languages and made available to buyers through physical and electronic channels in each local marketplace.
Nearly 200 buyers attended the sale from Germany and across Europe including Belgium, Portugal, Norway, the Netherlands, Hungary, Spain, Russia and the Czech Republic.  An additional 210 online bidders participated via Live Online from Germany, the Netherlands, Belgium, Czech Republic and Poland and from Cyber-Cafe facilities at BCA remarketing centres in Paris, Lyon, Bordeaux, Amsterdam, Madrid and Warsaw.  Overall, around 30% of the buyers were franchised dealers, with the balance being non-franchised dealers, used car specialists and traders.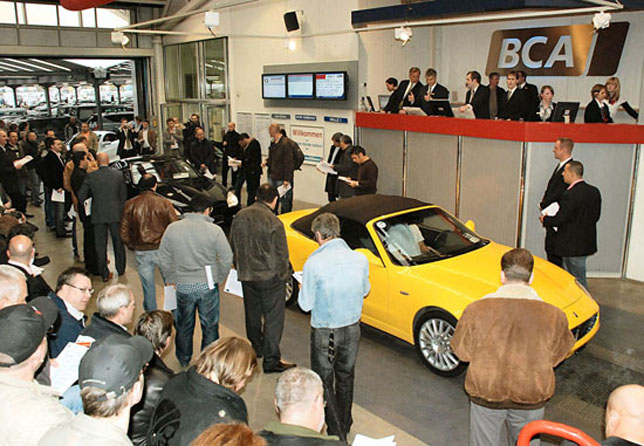 A total of 84 prestige and sporting cars were sold - equivalent to a sale conversion of 67.74 % - for €3.46 Million.  The average selling price was €41,190, with seven cars selling for in excess of €100,000, including a Ferrari F430.
A well planned and co-ordinated logistics plan meant that most buyer customers had received their cars within five days and made the most of the first-class transport links – road, rail and canal – out of Neuss.
BCA's German MD Peter Dietrich commented "We have started Top Car auctions now because the product type lends itself well to both physical and online auctions and because our vendor base of manufacturers, leasing companies, company fleets, finance houses and the automotive dealer sector can support a regular sale of circa 100 high value vehicles.  There is also high demand from buyers for this quality of vehicle and not just from within Germany.
He added "In fact, thanks to its ideal position between Western and Eastern Europe, Germany is becoming more and more a pan-European market place for used car sales and purchase and BCA is leveraging this demand with specialist sales such as this."
BCA will now stage a regular Top Car sale in Germany every eight weeks, and will continue to expand on the opportunity to involve buyers from across Europe through Live Online and Cyber-Cafes.  This means professional sellers handling prestige and sports cars now have a regular, well-promoted sales programme to remarket these vehicles, with the benefit of added buying power from across Europe