Top Gear: Porsche 959 vs Ferrari F40 [video]
Richard Hammond has made one of the most interesting comparisons between two supercars. In the last episode of season sixteen of Top Gear, he had the opportunity to take out for a test drive the iconic Porsche 959 and the brutal Ferrari F40.
Porsche 959 started production back in 1986 and only 337 units were made. It was specially designed to brake records and it held the title as the world's fastest street-legal production car. The top speed was staggering 317 km/h (197 mph). Moreover, the car accelerated from 0 to 100 km/h in 4.1 seconds, to 160 km/h in 8.7 seconds, to 200 km/h in 13.4 seconds and a kilometer was covered in just 21.6 seconds from a stand still.
The reason of this performance was the 2.8 liter twin-turbocharged flat-6 engine with 444HP (331 kW) and the weight of just 1 450kg.  The power was delivered on the road through 6-speed manual gearbox and AWD.
Ferrari F40 was produced from 1987 to 1992. In the year, when it came out, F40 did a world record for fastest street-legal production car. It managed to do 323 km/h (201 mph).
F40 is powered by 3.0 liter twin-turbocharged V8 with 471HP (352 kW) at 7000RPM. The engine is mated to a 5-speed manual gearbox. 0 to 100 km/h in 3.8 seconds, to 160 km/h in 7.6 seconds and to 200 km/h in 11 seconds, flat.
The most staggering about Ferrari F40 is its incredibly low weight – 1 100kg, thanks to carbon fiber body.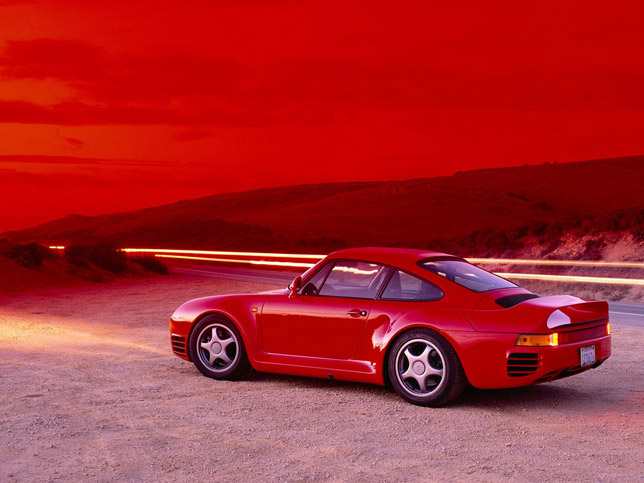 1986 Porsche 959
Body style: 2-door coupe Engine: 2 847cc twin-turbocharged flat-6 Layout: Rear-engine,four-wheel drive Transmission: 6-speed manual Wheelbase: 2 272 mm Length: 4 269 mm Width: 1 840 mm Height: 1 280mm Curb weight: 1 450 kg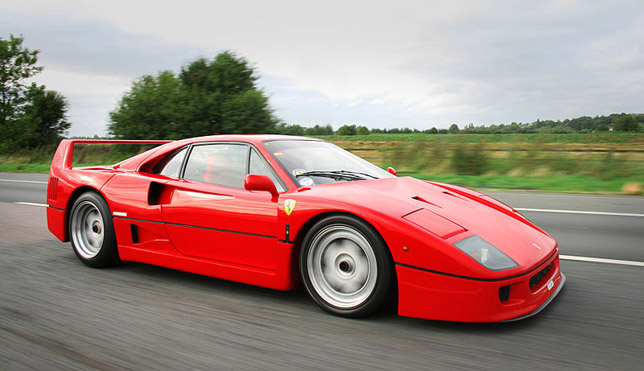 1987 Ferrari F40
Body style: 2-door coupe Engine: 2 936cc twin-turbocharged V8 Layout: Mid-engine, Rear-wheel drive Transmission: 5-speed manual Wheelbase: 2 451 mm Length: 4 430 mm Width: 1 980 mm Height: 1 130 mm Curb weight: 1 100 kg
source: Top Gear