Toyota Hybrid Camry Become the First Hybrid Used as Official NASCAR Pace Car
Toyota's Hybrid Camry - to be launched in Australia early next year - has passed the ultimate performance test with approval to serve as pace car in the fastest and longest NASCAR race in the United States. The petrol-electric Camry has passed on-track acceleration tests with flying colours to become the first hybrid used as the official pace car for an entire event in the premier NASCAR Cup series. The Hybrid Camry will pace a 960km race around a 2.4km oval in North Carolina on May 24 as well as five other NASCAR Cup events this year.
The pace car debut comes just months before the Hybrid Camry goes on sale in Australia, where it will make history as the first locally produced hybrid vehicle.
Pace cars must meet performance standards, including being able to reach 160kmh over just 400 metres on a banked track from a standing start near the pit-road exit. Ed Laukes, corporate manager for motor sports marketing at Toyota Motor Sales USA, said the NASCAR approval process took about a year. "It's a tribute to the torque and other performance characteristics of the Hybrid Camry that allows it to meet NASCAR's requirements for pacing the longest race of the season," Mr Laukes said. "There are misconceptions about hybrid technology among the public that we're trying to erase," he said. "This is a way for us to demonstrate the hybrid used on the track is the exact same car you can buy in a showroom."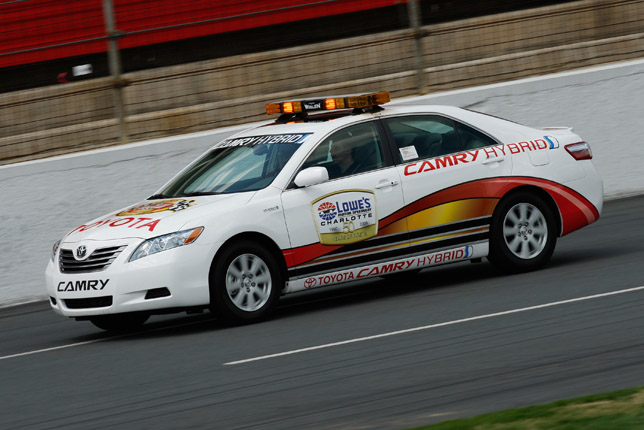 The Hybrid Camry is powered by a 2.4-litre four-cylinder petrol engine and an electric motor with combined output of approximately 140kW and fuel economy of around 7 litres/100km*. Apart from special graphics and warning lights, the pace car is a standard production model with an identical powertrain to the one in the car that will be offered to Australian motorists.