Valence Technology powers bike in world's first zero carbon Grand Prix
Valence Technology, the world leader in lithium iron batteries for vehicle propulsion, has provided ten of its U-Charge® XP energy storage solutions for Imperial College London's student entry into the TTXGP - the world's first clean emission motorcycle Grand Prix, on the Isle of Man.
The Imperial bike will be ridden by Chris Palmer, three-time overall race winner at the Isle of Man TT, holding the lap records for the Billown Circuit and Mountain Course for the Ultra-Lightweight TT class.
Valence has shipped more than 72MWhs of energy storage solutions, equating to around 200,000 batteries, or enough to power 6,500 electric cars or 2,000 hybrid buses. More than a 100 manufacturers in the automotive industry are trialling Valence batteries, which employ safe lithium iron magnesium phosphate chemistry.
The bike weighs in at 290kg and has a peak power output of 50hp, with the ability to accelerate from 0-60mph in 4 seconds and go on to a top speed of 100mph. It has an impressive range of up to 150 miles. The electric motors have been mounted towards the rear, with the batteries occupying space previously occupied by the engine and fuel tank, meaning the bike benefits from a lower centre of gravity.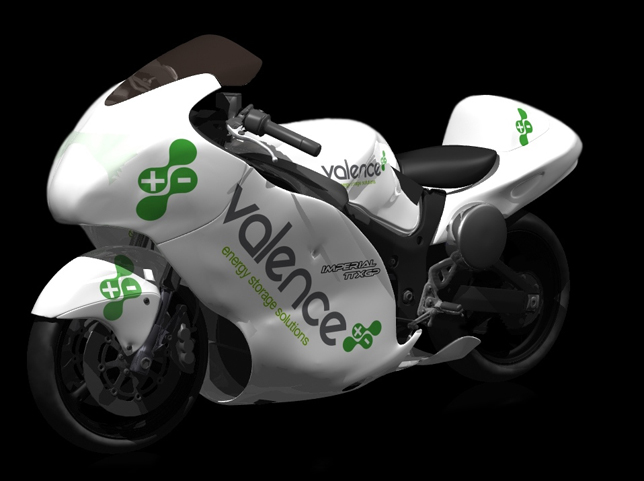 Mark Donaghy, Global Marketing Director for Valence Technology, said "We are proud to be supporting Imperial College's entry into this ground-breaking event. Valence energy storage solutions have been successfully applied across multiple vehicle sectors, from motorcycles and scooters to 12-tonne trucks and double-decker buses."
Nikolaus Sauer, a mechanical engineering undergraduate at Imperial and Project Manager for the TTXGP bike, said "We have enjoyed working with Valance to develop this solution. Valence provided a package which was simple to integrate yet outstanding in terms of performance and safety, making use of the most advanced lithium phosphate technology."
The TTXGP will take place on 12 June 2009, integrated into the traditional TT programme.