Vauxhall Insignia Achieves Five-Stars In Euro Ncap Safety Test
With an exemplary result of 35 points out of a maximum 37, Euro NCAP has awarded the Vauxhall Insignia a five-star adult occupant rating. The 2009 Car of the Year was also awarded four stars for child protection and two stars for pedestrian protection - the best ratings given so far in the large family car segment.
"We designed, engineered and built the Insignia to be one of the safest cars on the road and the way it performed in the Euro NCAP tests confirms the relevance of our technical solutions," says Hans Demant, Vice President of Engineering for General Motors Europe.
The body structure design and occupant restraint systems of the new Vauxhall are intended to meet all current and future global crash safety standards. Euro NCAP had earlier confirmed the high quality of the Insignia's head rests for whiplash protection.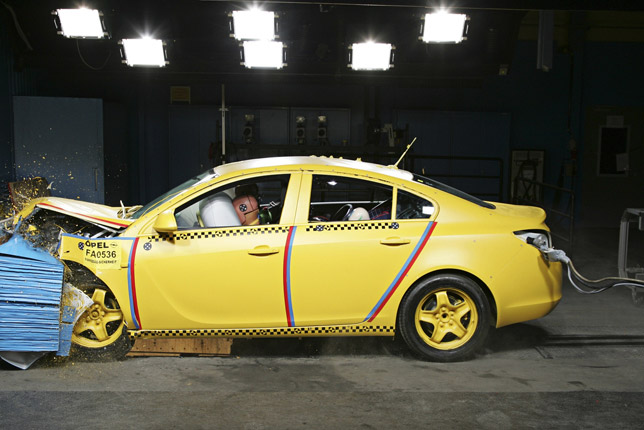 Leading safety technology inside and out
The Insignia is designed, engineered and built to make it one of the safest cars on the road, often using leading technology not normally found in this class, including:
Intelligent Adaptive Forward Lighting (AFL) cornering light system, in which the car's headlamp beam automatically adjusts to prevailing road and weather conditions. The AFL now has a total of nine light functions so drivers can see the road better while, for example, turning a curve or driving on a country road at night. In addition, LED daytime running lights, including automatic light switching, are standard, improving the car's visibility during the day.
Adaptive 4x4 improves the traction on take-off and on slippery surfaces, as well as optimising handling and stability in all conditions. In combination with the Sport trim, the AWD system is enhanced by an electronically controlled Limited Slip Differential (eLSD), which further enhances the traction and improves vehicle stability.
Vauxhall's Front Camera System has two jobs: it can warn drivers when they unintentionally veer off the road and it can detect and recognise traffic signs. In this way, drivers are given added assistance without interference
In addition, there is a plethora of standard safety equipment on all Insignias, including the following:
Anti-lock braking system with electronic brake force distribution, cornering brake control, comprehensive brake assistance system, that comprises emergency brake assistance, hydraulic brake-fade assistance, brake disk cleaning and hill start assistance.
Electronic Stability Programme (ESP)
Traction Control with engine and brake intervention
Three height-adjustable head restraints in the rear
Three-point safety belts all around
Belt-force limiters and pyrotechnic double belt tensioners in front
Seatbelt warning signals in front (on all rear seats)
ISOFIX child seat fixtures in the rear
Comprehensive airbag system, including multi-stage front and side airbags for driver and front passenger, head curtain airbags (front seats)
Adaptive brake lights that warn vehicles driving behind the car if it brakes suddenly or if ABS intervenes at speeds above 20mph. All three brake lights then flash at a frequency of five hertz and continue flashing for three seconds after the car comes to a stop
Pedal Release System
The latest generation active head restraints in front, which provide front occupants with highly effective protection against whiplash injuries
Super-strong passenger safety cell
The basis of passive safety in the Insignia is a rigid passenger cell mainly fabricated from high-strength steel. To absorb the impact energy in a crash, the front, side and rear of the passenger compartment are surrounded by crumple zones that deform and protect in a controlled manner.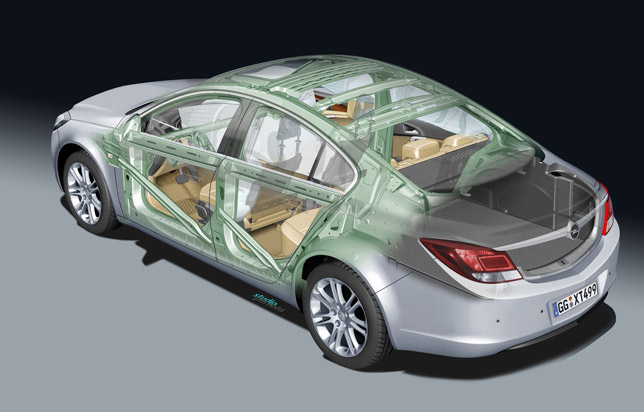 At the front, three distinct loads paths are designed to absorb and channel impact forces: the front sub-frame, the longitudinal members carrying it and the upper rails leading into the lower A-pillars.
At the rear, two more longitudinal members are linked by the aluminium bumper beam. In the event of a heavy rear-end impact, these are designed to buckle and deform in a progressive manner, channelling crash energy towards the lower C-pillars, wheel arches and floor.
For side impact protection, where there is little scope to engineer a substantial crumple zone, the side body structure is designed to spread loadings. The doors have steel reinforcing beams that are mounted diagonally. This layout proves to be more effective in engaging the B-pillar, side sill and the floor and roof cross-members as a single network to bear the load bearing task.
Measures for pedestrian head impact protection included providing adequate clearance for all hard points under the bonnet, and also the adoption of a "soft" bonnet design, with wide openings in the inner skin to provide flexibility as well as stiffness.