Victory for Porsche 911 GT3 RSR at season-opener
Elation at the season-opener of the Le Mans Series (LMS): With the new Porsche 911 GT3 RSR, Marc Lieb (Germany) and Richard Lietz (Austria) drove to victory in the GT2 class. On the Circuit de Catalunya near Barcelona, the two works drivers (team Felbermayr-Proton) produced a real masterpiece. After a wrong tyre choice, they initially fell back to sixth position during the first race hour. The ensuing charge through the field on the 4.665 kilometre Grand Prix circuit and the overtaking manoeuvre into the lead was spectacular – and the spectators loved it. Victory in the LMS crowned the weekend off perfectly for the Porsche 911 GT3 RSR in worldwide racing. In the American Le Mans Series and at the Nürburgring Long Distance Championship, the GT racer from Weissach left all its opponents behind.
"Great, great, great," said an elated Marc Lieb about his first win of the season. "After the start on hard tyres things weren't going well at all. But then we had some luck and could come into the pits during a Safety Car Phase. That worked because due to our lower fuel consumption our Porsche could drive two more laps compared to our rivals. That's how we caught up to the leaders. And then we fought, bit by bit, to eat away at the advantage of the others and finally take the lead." As a new-comer to the Felbermayr team, Richard Lietz was pleased. "The race was incredibly exhausting, but that makes victory taste even sweeter," said the Austrian. "We'd actually found a super set-up. But the circuit today was so slippery that even with a perfect car you had to fight and use your head."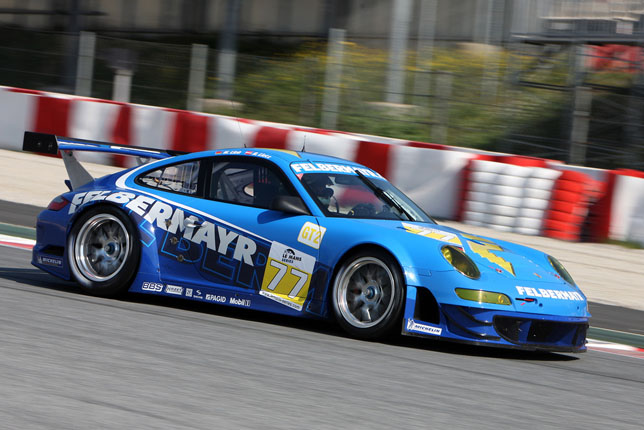 The second Felbermayr-Proton car with driver trio Horst Felbermayr Jr. (Austria), Christian Ried (Germany) and Francisco Cruz Martins (Portugal) secured seventh place in the fiercely-contested and well represented GT2 category. Ried, as both team boss and driver, said: "We had some problems early on because the radio didn't work properly. Then, through no fault of his own, our Portuguese junior Francisco spun when a faster prototype hit the rear of his car. So all in all we are satisfied with our team's result – and of course because our two race professionals climbed to the top of the podium. We are also very proud that our pit stops ran smoothly. The many practice sessions in winter have paid off."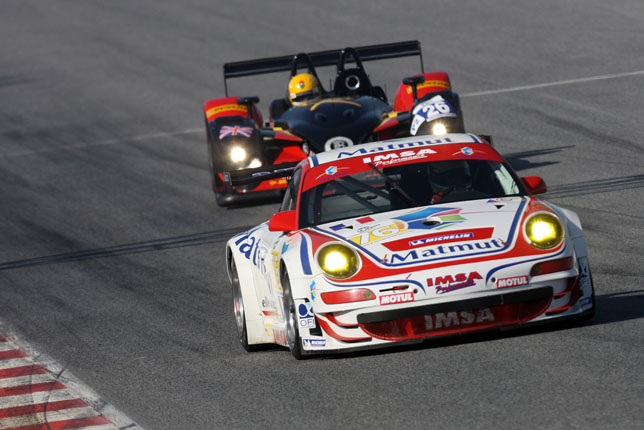 Bad luck plagued the French IMSA Performance Matmut squad. Porsche works driver Patrick Pilet and his French compatriot Raymond Narac took up the race from third to quickly snatch second and easily maintained the pace of the front-runners. Pilet, who last year competed for Porsche in America, was impressed with the European Le Mans Series: "The traffic on the track, with 43 cars, is absolutely crazy," said the 27-year-old. "Lapping and overtaking manoeuvres are almost non-stop. It's certainly not boring. But that's exactly what the spectators want to see." But half-way through the race the car was sidelined. "We simply lost power," said Pilet. "After the race we'll check just why this is."
From midnight, Eurosport broadcasts a 30-minute summary of the exciting first round of the Le Mans Series.
Statistics: 1st of 5 races of the Le Mans Series in Barcelona, Spain
Result GT2 race 1. Lietz/Lieb (A/D), Porsche 911 GT3 RSR, 187 laps 2. Bell/Bruni (GB/I), Ferrari F430 GT, 186 3. Simonsen/Montanari (DK/SMR), Ferrari 430 GT, 185 4. Ehret/Beltoise (D/F), Ferrari F430 GT, 185 5. Garcia/Mansell (ES/GB), Ferrari F430 GT, 185 6. Hartshorne/Scheier/Ianetta (GB/F/ES), Ferrari F430 GT, 184 7. Felbermayr Jr./Ried/Martins (A/D/P), Porsche 911 GT3 RSR, 182 8. Cocker/Drayson (GB/GB), Aston Martin Vantage GT2, 181
Points standing GT2 class Driver 1. Marc Lieb, Richard Lietz, Porsche, each 10 2. Robert Bell, Gianmaria Bruni, Ferrari, each 8 3. Allan Simonsen, Christian Montanari, Ferrari, each 6 4. Pierre Ehret, Anthony Beltoise, Ferrari, each 5 5. Antonio Garcia, Leo Mansell, Ferrari, each 4 6. John Hartshorne, Johan Boris Scheier, Romain Ianetta, Ferrari, each 3 7. Horst Felbermayr Jr., Christian Ried, Francisco Cruz Martins, Porsche, each 2 8. Jonny Cocker, Paul Drayson, Aston Martin, each 1
Manufacturer 1. Ferrari, 14 2. Porsche, 12 3. Aston Martin, 1
The next round of the Le Mans Series takes place on 10 May in Spa-Francorchamps, Belgium.