Viper ready to strike at Rockingham Avon GT round
Both Northampton-based Paul O'Neill and Peterborough's James Gornall believe they've got the right car to take victory on Spring Bank Holiday, when the Avon Tyres British GT Championship comes to their local circuit of Rockingham, near Corby.
O'Neill, 28, shares a 520bhp Dodge Viper with Worcester's Steve Clark in the series while Gornall, 24, shares a similar machine with Southampton's Jon Barnes.
Because the cars that race in British GTs all have different characteristics, some suit certain circuits more than others. Both Oulton Park and Knockhill – where the season's first four rounds took place - are tight circuits that suit light, nimble cars like the Ferrari 430 and Lamborghini Gallardo rather than the heavy Viper.
Despite that, both pairings have enjoyed success– O'Neill and Clark took a solid third place at Oulton, with Gornall and Barnes claiming second in damp conditions at Knockhill. With a long flat-out section of track at Rockingham, the Viper really can use its power and should be the car to beat.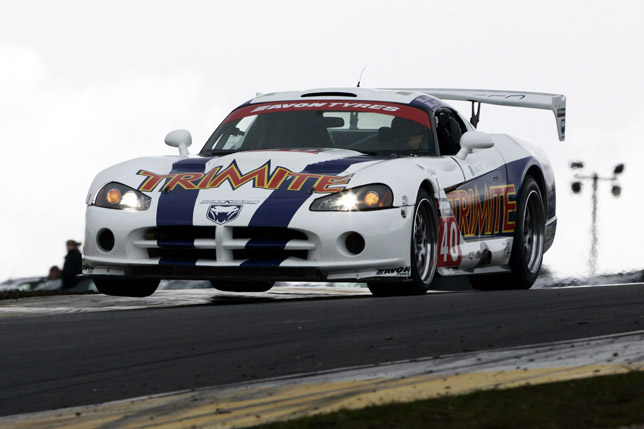 "We never expected to go well at Oulton and Knockhill, so to come away as the third highest pairing in the championship was great," O'Neill said after Knockhill. "I was hoping for top six finishes, so to have three top five finishes is mega! We should be quick at Rockingham though - the Viper won the title there last year, so we've got no excuses."
Gornall was similarly pleased with his and Barnes's performance so far: "I'd never been to Knockhill before and before qualifying I hadn't had a flat-out lap in the dry but just by staying on the circuit we put ourselves in a good position."
The toughest challenge for the weekend should come from the Lamborghinis of Tech 9 Motorsport and Team Modena, plus the Ferraris of CR Scuderia and the Christians in Motorsport team.
Avon Tyres British GT Championship Standings after 4 of 12 rounds
1=) Paddy Shovlin 23
1=) Michael Cullen 23
3=) Hector Lester 18
3=) Allan Simonsen 18
5=) Steve Clark 15
5=) Paul O'Neill 15
7=) Jon Barnes 14
7=) James Gornall 14
9=) Godfrey Jones 12
9=) David Jones 12
Tickets are on sale now from www.rockingham.co.uk/events or by calling 0871 231 0846. Advance ticket prices are £15 for race day or £21 for the whole weekend and children aged 15 or under can catch all the action free.