Volkswagen Beetle Fender Edition - Style and Music
A joint venture between the Fender Musical Instruments Corporation (which apparently deals with music instruments) and Volkswagen has brought as a result this: the Volkswagen Beetle Fender Edition. Look, it even has a small "Fender" badge on the...fender... Other than that it has an unsurprisingly outstanding Fender sound system and a musically orientated theme for the interior. The Leipzig International Auto Show will be the debut venue.
The more Volkswageny bits shine under the hood – a TSI 2.0-liter engine that churns out 200 bhp, spins 18-inch "Disc" aluminum-alloyw wheels. Some standard equipment includes Bi-Xenon headlights, brushed chrome wing mirrors and a Deep Black Metallic color.
Inside, all the dashboard features share the same sunburst color found on Fender guitars. The seems are also color orientated and so are the leather seats. The most exciting part however, is the proprietary Panasonic© speaker technology of the Fender sound system – it "cuts through noise and other distraction with front dual-voice coil speakers". We are not sure what that means but at the end of the day, we are promised concert-like quality. We wouldn't be surprised considering the figures (let's just hope that the glass bits of the Beetle are somewhat reinforced):
A 400Watts, 10-channel amplifier and 9 speakers in total:
Four Fender Deluxe™ Tweeters
Two-ohm soft dome with neodymium magnet
Wide frequency range and extension
Incredibly low distortion
Excellent off-axis performance
Reveals the harmonic richness of voices and instruments
Two Fender Twin™ Speakers
20-cm with dual-voice coils
Ribbed polypropylene honeycomb cone
Wide frequency range and extension
High power-handling capability
Lightweight and low distortion
Two Fender Rear Speakers
16-cm with neodymium magnet
Ribbed polypropylene honeycomb cone
Smooth midrange response
One Fender Bassman™ Subwoofer
20-cm with dual-voice coils
Lightweight and high-efficiency neodymium magnet
Glassfiber-reinforced foamed paper
Super-low distortion
High power-handling capability
Powerful and precise bass response
Sales will first commence in Europe and latte in the autumn, in the US. No prices yet.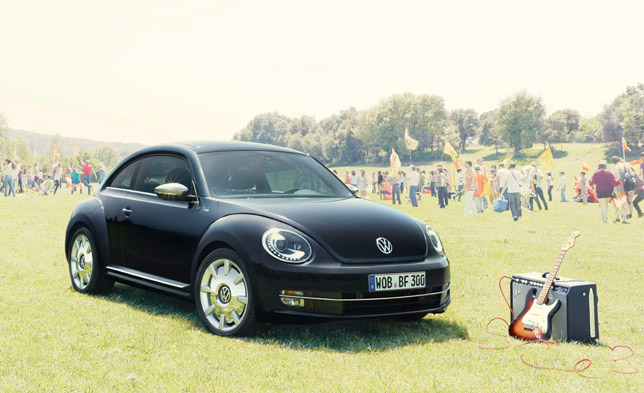 Source: Volkswagen