Volvo C30 impresses in a dramatic wtcc debut
Seventh fastest in testing and tenth in qualifying before being pushed off the track by Rickard Rydell.
Volvo's new Green C30 race car took its debut in the World Touring Car Championship (WTCC) in the seventh race of the series at Brands Hatch this weekend. Volvos priority was to test the new ethanol driven race car against the best in the world. This was a debut which gave both a taste for the future and some drama. – We are very happy with the weekend. We knew beforehand that a one-off entry in to WTCC would not be easy. Partly because we would race on a completely new tyre for us and partly because we would have a total of 42-45 kilos of extra weight as a debutant with ethanol in the tank. But this only spurred us even more says Derek Crabb, Motorsport Director for Volvo Cars.
Robert Dahlgren managed to qualify tenth out of twenty-six drivers in a qualifying session where the thirteen fastest drivers were within one second. Amongst others, Dahlgren outqualified two of this years absolute dominating drivers in series, SEAT's Gabrielle Tarquini and Rickard Rydell.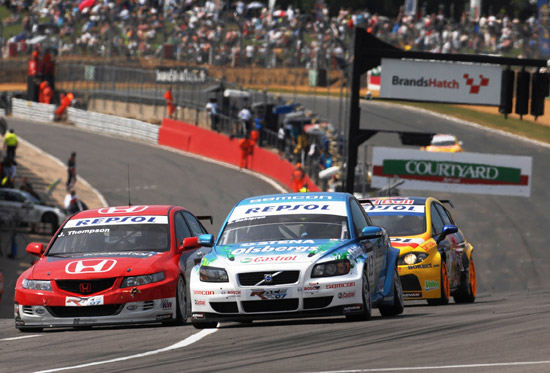 The outqualified veteran Rickard Rydell would however reappear in Dahlgren's rear view mirror during the first race heat. After ten laps in to the heat where Dahlgren was fighting for tenth position with James Thompson, Rickard Rydell crashed in to Dahlgren who ended up off the track and had to end the race there. Unfortunately, the car was damaged in a way that could not be repaired in time for the second heat which starts 45 minutes after the end of the first heat.
Despite the dramatic end to the weekend, Volvos Driver Robert Dahlgren is very happy:
– We came here to evaluate and learn. The job was completed as planned and gave us a taste for more. To jump in to WTCC and be in the top ten straight off with a completely new car is good. The crash itself has to be considered as a compliment – if a top-ranked factory drives has to crash in to you to get past, then you know you are doing a good job.