Volvo enters the World Touring Car Championship race at legendary Brands Hatch
Robert Dahlgren returns to his old training ground, driving Volvos new C30 Green Racer
Volvo Car Corporation has decided to enter its new ethanol powered Volvo C30 racer in the WTCC (World Touring Car Championship) at Brands Hatch on the 26 - 27:th of July.
The car, which is in its first year on track, races in the Swedish Touring Car Championship (STCC) as the only ethanol E85 powered car in that series. In STCC, the car has so far secured three out of seven pole positions and has lead close to half of all laps driven.
Now Volvo wants to evaluate the car against the strongest of competition on the circuit at legendary Brands Hatch, Kent, England.
"We are naturally excited to come to Brands Hatch. This race was on the "to-do-list" in our plan for the C30 from start. We wanted this as a check point to see how far we have come against the best," says Derek Crabb, Motorsport Director at Volvo Car Corporation. We are climbing up the development curve of this car and we strongly believe the Volvo C30 may become a very competitive car in any FIA Super 2000 championship. However, it important to stay pragmatic and do things in the right order.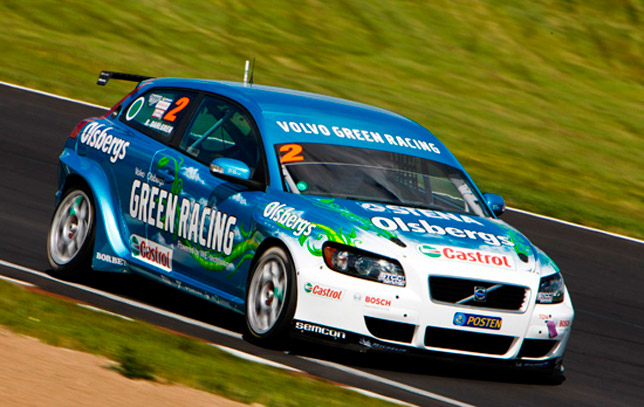 Equally thrilled is the driver, Robert Dahlgren:
"It will be fantastic to race at Brands Hatch again. I spent most of my youth in Britain and have driven all the tracks in different formula series. I also won the Formula Ford Championship there in 2001 and was the first privateer to do so in 18 years. It will be exiting to come back, but this time as a works driver for Volvo and in the exiting new C30."
The car will be operated by Volvo official motorsport partner Polestar Racing AB, who is also both developing and running the same car in STCC. Volvo will race with Ethanol E85 in the tank and will not be eligible to race for points.