Volvo launches ultimate factory built police car
Volvo is unveiling the ultimate factory-built police car today (2 September 2008) at the National Association of Police Fleet Manager's (NAPFM) Conference in Cheltenham.
The Volvo V70 police car was designed and developed in conjunction with the NAPFM, National Police Improvement Agency, Police Federation and users. Volvo will build the fully equipped V70 estate on the standard production line in Torslanda, Sweden, offering a turn key solution to the British Police Force.
Volvo believes this is the first time a fully equipped frontline UK police car has been available to factory order and is confident of immediate interest from authorities who have been used to a car spending several months having special kit fitted before being able to put it into service. Customers can expect delivery of their Volvo V70 Turn Key police car within 12-14 weeks from their initial order.
All elements of the new Volvo V70 Turn Key police car are factory built for UK forces from the battenburg livery and lightbar to all radio prep/wiring and a master control panel. The factory fitted options list reads slightly differently to usual and includes the VASCAR speed detection system, a police surveillance video camera and a two dog cage.
This is added to Volvo's already unique tried and tested police chassis, which includes self levelling suspension and special 17.5 inch brakes and reinforced alloy wheels which further improve stopping distances and brake disc cooling.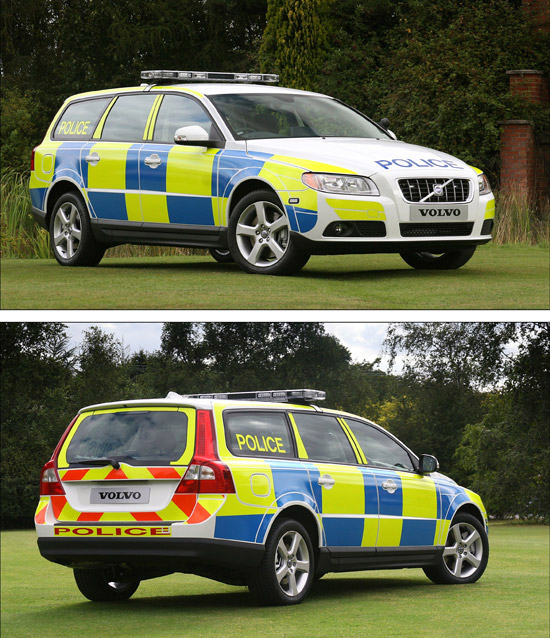 With Duty of Care being at the top of the wish list for all police authorities, having a car that is fully designed, built and supported in the aftermarket by the manufacturer is another huge plus point for the Volvo V70 Turn Key.
Volvo first announced its intentions to design and build the ultimate Turn Key police car at last year's NAPFM conference.  Now, 12 months on, after taking into consideration the wish lists of all UK police authorities, Volvo has delivered the complete car with a range of petrol, diesel and FlexiFuel engines.
"Volvo has worked with its partners to deliver what police forces want from a typical patrol car and we are confident it will be a big hit. Being able to factory order a car and know it will be ready for immediate action when it arrives is a significant benefit and it also addresses the Duty of Care commitments of police authorities. We believe this car takes the UK police market to a new level," said Sarah Tottle, Volvo UK's special vehicles manager.
Livery & Decals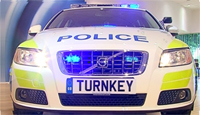 UK Police Battenberg Livery in Reflexite Red reflective tape on door openings
Red reflective tape on tailgate opening
Emergency Lighting
Multipattern Headlamp Flash LED Lightbar fitted to Roof rails (Whelen)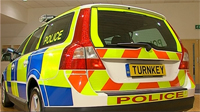 2 x LED Blue Grille Lights 2 x LED Blue Fend Off Lights 2 x LED Blue lights in Tailgate 2 x LED Red lights in Tailgate LED Blue Dashlight Extra light in boot over load area Red Night time Map reading lamp 2 x Extra spotlights over driver/passenger area Dayrunning lights switched off 2 x Maglites with charging holders attached to front seats
Radio Equipment
Preparation for Tetra radio system – equipped to cater for Motorolla / Sepura / Cleartone Radio's Handsfree for police radio Pre-wiring, battery charger for portable radio Press to Talk (PTT) switch
Volvo V70 UK TURN KEY Police Car
Police Equipment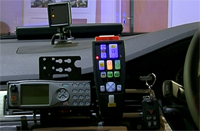 3 way Siren with horn ring transfer and night mode Loudspeaker PA system Police Master Control panel with prioritised functions Centre console Multi bracket with space for additional police equipment Observers mirror GPS/GSM antenna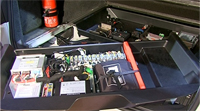 Heavy duty battery (760 CCA) Police Interior with unique rear seat covering Incident Data Recorder (Siemens / RSG) Master Control Centre with removable trays for easy maintenance
Safety & Security
Steel load protection net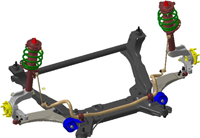 Nylon safety net Partition between front seats (kick guard) Electric door lock for rear side doors with 5 second release Dismantle of rear courtesy handle Oil sump protector Volvo Run Lock with remote control operation and auto stop Rear Park Assist
Chassis & Wheels
Unique Police Chassis 17" POLICE Alloy with reinforcement 17.5" Heavy Duty Brakes with wear sensor wires Nivomat (Self-Levelling Suspension)
Other
Radio suppression Rubber floor mats 2 x Maglites with charging holders attached to front seats Police Car Owners manual
Optional Equipment
Policepilot (VASCAR)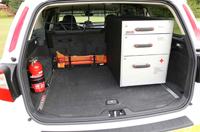 Police surveillance video with 360 degree camera and Handycam mounted in centre console Rear Matrix Sign 240v Exterior Batterycharger socket Fire Extinguisher High Rear Storage System with Lockable draws (allows access to Control centre for maintenance) Low Rear Storage System with Lockable draws (allows access to Control centre for maintenance) Front Park Assist Road Traffic Information (FOC until 31.12.08) 2 Dog Cage