VW Makes Clean Diesel Racing Even Greener in 2009 With the Use of B5 Biodiesel
After first introducing its clean diesel technology on the race track in 2008, Volkswagen of America, Inc. announced it will use B5 biodiesel to power its race cars, transport vehicles and generators during the 2009 Jetta TDI Cup season. Houston-based HYPERFUELS will supply B5 biodiesel for the series, which is sanctioned by the Sports Car Club of America (SCCA) Pro Racing.
"We are extremely pleased to have HYPERFUELS as a partner for the 2009 Jetta TDI Cup series. SynDiesel® B5 biodiesel has been fully approved for use in all Volkswagen TDI powered vehicles that are available at local Volkswagen dealerships today," said Clark Campbell, Motorsport Manager, Volkswagen of America, Inc. "The addition of SynDiesel B5 biodiesel in the Jetta TDI Cup race cars further demonstrates the feasibility of biodiesel as an alternative fuel source for American consumers and supports the clean and green racing of the Jetta TDI Cup series," added Campbell.
Performance testing has proven that diesel powered vehicles offer more low-end torque than traditional gasoline engines, providing quicker off-the-line acceleration that's well suited for the race track. In addition, the Jetta TDI engine's use of a "common rail" direct injection system improves fuel economy over gasoline engines and reduces sooty emissions by 95 percent, even under demanding race conditions. During the 2009 season, the Jetta TDI Cup cars will consume approximately two tanks of B5 biodiesel during race conditions and overall carbon emissions produced by the series will be reduced by 2,583 pounds as a result of the new fuel. These environmentally-friendly characteristics classify all Volkswagen TDI models as Advanced Lean Technology Vehicles, qualifying consumers for a $1,300 Federal Income Tax Credit.
"HYPERFUELS is excited that the 2009 Volkswagen Jetta TDI Cup and SCCA Pro Racing acknowledge that the addition of biodiesel creates a clean performance racing fuel," said Jess Hewitt, President, Gulf Hydrocarbon, the parent company of HYPERFUELS. "If we can help take biodiesel awareness and performance to the next level, then everyone wins. It's cleaner burning, yields a faster burn, produces less emissions and is easily accessible. I can't imagine a better fuel or better cars to showcase the performance and benefits of biodiesel," added Hewitt.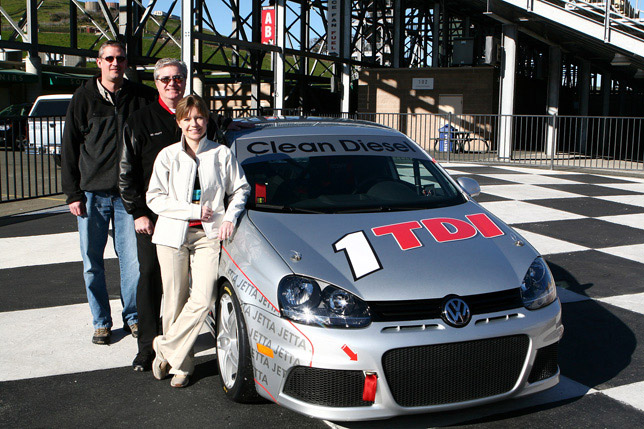 The SynDiesel B5 biodiesel that HYPERFUELS is supplying is a synthetically made diesel fuel, with a 63 cetane rating, storage life of up to 10 years and 20 percent more BTU's than conventional diesel. The same fuel used in the 2009 Volkswagen Jetta TDI Cup racing series is available for purchase on www.hyperfuels.com
Beginning with the season-opening race on April 25 at VIRginia International Raceway, drivers will compete in ten events on eight road courses around North America in identical factory-prepared and maintained Jetta TDI's powered by B5 biodiesel. The series champion will win $100,000. In addition, each driver who competes in the series will earn a Pro Racing license from SCCA at the conclusion of the season. The Jetta TDI Cup car is powered by a 2.0-liter, four-cylinder TDI clean diesel engine mated to a six-speed, double-clutch, automatic DSG transmission. The car is only slightly modified from stock with race suspension and brakes.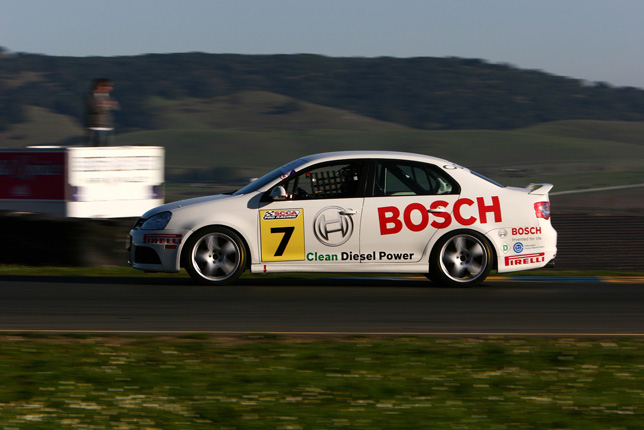 2009 Volkswagen Jetta TDI Cup Schedule
Round 1 & 2 April 24 – 26 - VIRginia International Raceway - Alton, VA (with Grand-Am)
Round 3 May 15 – 17 - Miller Motorsports Park - Tooele, UT (with ALMS)
Round 4 June 19 – 21 - Mid-Ohio Sports Car Course- Lexington, OH (with Grand-Am)
Round 5 July 24 – 26 - Autobahn Country Club - Joliet, IL (with Speed World Challenge/Atlantics)
Round 6 Aug. 14 – 16 - Road America – Elkhart Lake, WI (with ALMS)
Round 7 Aug. 28 – 30 - Mosport International Raceway – Bowmanville, ON (Canada) (with ALMS)
Round 8 & 9 Sept. 11 – 13 - New Jersey Motorsports Park – Millville, NJ (with ARCA)
Round 10 Sept. 25 – 27 - Road Atlanta – Braselton, GA (with ALMS)