The WRC will really start in Finland!
Sébastien Loeb, who will begin Rally Finland with a one-point deficit compare with Mikko Hirvonen, believes that the Drivers' World Rally Championship will really start in Jyväskylä! The five-time World Champion and his co-driver Daniel Elena will be hoping to repeat their memorable victory of 2008 as they attempt to regain the upper hand in the series. Meanwhile, Citroën Total World Rally Team continues to enjoy a handsome cushion at the top of the Manufacturers' standings, while Dani Sordo and Marc Marti are targeting a podium finish in Finland, a terrain on which they feel increasingly at ease.
The high-speed stages, spectacular jumps and concealed corners of the former 1000 Lakes Rally are a unique challenge for any driver, and more especially so for those who weren't raised in Finland! This round has counted towards the World Championship 33 times, yet only three non-Nordics have succeeded in popping the champagne in Jyväskylä in that time, namely Carlos Sainz, Didier Auriol and … Sébastien Loeb who took the top prize last year after a thrilling duel with Mikko Hirvonen.
Sébastien Loeb and Daniel Elena would obviously like to repeat that achievement on their main rival's home turf. "It would clearly be more comfortable if we had a lead of, say, 20 points going into this rally. That said, we were only three points clear of Mikko before last year's visit," recalls Seb. "This time, the gap is even narrower, and there are only four more rallies to come this season. As I see it, it's as though the championship will be beginning afresh in Finland, and our only option will be to attack."
Winning in Finland calls for total confidence in the car and notes, as the five-time champion explains: "Our C4 WRC is improving through detail changes at the moment and I know it is competitive on this event. Last year, I had every confidence in my car and that enabled me to push hard from start to finish. It turned out to be a very close fight, and the gap at the finish was less than 10 seconds… If we want to win again this time round, we will need to repeat the same sort of pace."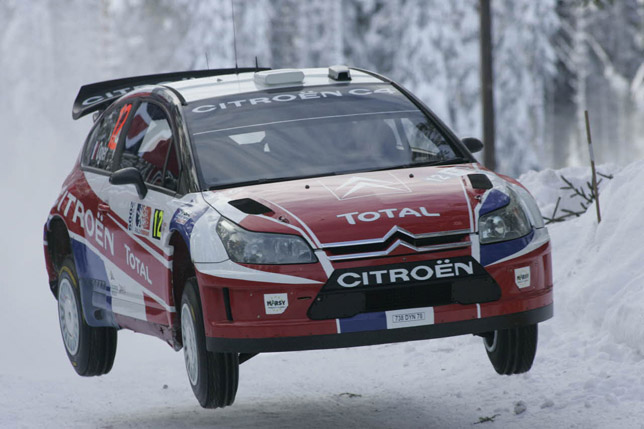 After coming second in Poland, Dani Sordo and Marc Marti will be looking for another top-three finish on a terrain on which they feel increasingly comfortable: "Poland was good practice for Finland. Last year, we failed to beat Chris Atkinson, but we still ended up fourth. I hope to do even better this time, and I can't wait to get started. The Finnish stages give drivers a unique thrill, although there aren't so many of the famous jumps which helped to forge this event's reputation in the past. The main difficulties are the blind crests which require total faith in your notes. We'll see how things go, but our target once again is to score as many Manufacturers' points as possible for Citroën."
Three questions to… Sébastien Loeb
How do you see the situation in the World Championship going into the ninth round?
"The way things stand at the moment, it's hard to have a totally free mind, but I feel quite relaxed. Despite what some people have written, I didn't spend my holidays in an F1 simulator! Indeed, I made the most of the short break to have some time to myself. Some friends came to visit us at our home and we spent a weekend in the Alps doing activities like mountain biking, rafting and canoeing. There are only four rounds of the 2009 championship left and we will have no alternative but to attack! Even if you just take calculated risks, anything can happen, and that's what's making this championship so challenging…"
How much did having to retire on the opening day of Rally Poland affect you?
"I obviously didn't take it well at the time. If I had spotted the tree-stump during recce, we would have noted it and I would have taken a different line through that turn. As it was, I turned in exactly how I wanted to and the stump broke the front suspension subframe. As is the case every time we have a problem, the technical team took a close look at that subframe and they noticed there had been a production-related problem with it. Otherwise, there's every chance it would have taken the knock in its stride, although we will never know for sure."
There are only four more rallies to come. How will you approach them?
"Last year showed that we are capable of matching the Finns on their home event. Rally Australia will be new for everyone, so we will all start on an equal footing. In Catalunya, we have the edge on paper, but I am very much aware of how much Mikko has progressed on sealed surfaces. The season ends with Wales Rally GB, which is an event we won last year, although Mikko will be very much at home on it, too. It promises to be a very close and exciting final run-in. It could go either way should one of us fail to finish an event. If that should happen, it will probably be impossible to catch up if the other driver doesn't make any mistakes. One thing which is sure is that a win in Finland would give me a psychological advantage going into the last three rallies…"
Event information - Rally Finland (July 30-August 2), round 9 of 12
Surface: gravel
Host town: Jyväskylä
Practical information: Rally HQ and the Media Centre are based at the Jyväskylä Paviljonki. The service area is alongside Rally HQ. There is a time difference of one hour between Finland (GMT+3) and continental Europe (GMT+2). When it is 10am in Finland, it is 9am in France. Sunrise on Day 1 of the rally (Friday, July 31) is 4.39am. Sunset is at 10.06pm. The local currency is the Euro.
Technical matters: The Citroën C4 WRCs will be powered by the same engines which were used in Greece and Poland.
Tyres: each crew will have 42 soft compound Pirelli Scorpion tyres for the event (including shakedown). Competitors may carry two spares, but the re-cutting' of tread patterns is not authorised.
Recce: Tuesday July 28 and Wednesday July 29 ((8.00am until 8.00pm). Two passes per stage maximum.
Shakedown: Thursday July 30 (8.00am to 12 noon). The 3.76km test stage in Laajavuori (the same as 2008) is 6km from the service area.
Press conference: Thursday July 30 (1.30pm), Media Centre.
Route length: 1263.20km, including 347.12km divided into 17 stages (9 different).
Day 1 519.45km, including 130.84km divided into 10 stages (5 different). Thursday, July 30: start at 18.15. SS1 (Killeri 1, 2.06km). Parc ferme (19.30). Friday, July 31: Service A (06.00, 15 minutes). SS2 (Jukojärvi 1, 22.29km). SS3 (Kruununperä 1, 13.51km), SS4 (Mökkiperä 1, 13.64km) and SS5 (Palsankylä 1, 13.92km). Regroup (10.56, 13 minutes). Service B (11.09, 30 minutes). SS6 (Jukojärvi 2, 22.29km), SS7 (Kruununperä 2, 13.51km), SS8 (Mökkiperä 2, 13.64km) and SS9 (Palsankylä 2, 13.92km). Service C (16.20, 45 minutes). SS10 (SSS Killeri 2, 2.06km). Parc ferme (20.30).
Day 2 (Saturday, August 1) 644.89km, including 166.87km divided into 9 stages (6 different). Service D (06.15, 15 minutes). SS11 (Leustu 1, 21.35km), SS12 (Himos 1, 20.94km) and SS13 (Surkee 1, 14.95km). Regroup (10.11, 13 minutes). Service E (10.24, 30 minutes). SS14 (Leustu 2, 21.35km), SS15 (Himos 2, 20.94km) and SS16 (Surkee 2, 14.95km). Regroup (14.35, 13 minutes). Service F (14.48, 30 minutes). SS17 (Urria, 12.75km), SS18 (Kavala, 10.35km) and SS19 (Väärinmaja, 29.29km). Service G (19.57, 45 minutes). Last car due into parc ferme at 23.00.
Day 3(Sunday, August 2) 285.27km, including 47.44km divided into 4 stages (3 different). Service H (06.50, 15 minutes). SS20 (Hannula, 10.82km), SS21 (Myhinpää 1, 15.06km). Regroup (09.46, 30 minutes). SS22 (Myhinpää 2, 15.06km), SS23 (Ruuhimäki, 6.50km). Service I (13.16, 10 minutes). Finish (13.26).
Podium ceremony: Sunday August 2 (from 14.00).
Post-rally press conference: Sunday August 2 (14.45), Media Centre.
New: eleven of the 23 stages are identical to those used last year (SS1/2/5/6/9/10/11/14/17/20/23). The others are a combination of new roads and portions used between 2005 and 2008. Only Kavala (SS18) and Myhinpää (SS21/22) are entirely new.