Highest Efficiency in Class: 2014 Honda Accord PHEV [VIDEO]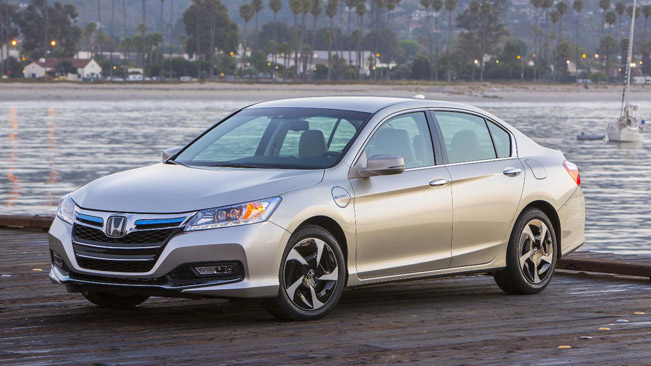 2014 Honda Accord Plug-In Hybrid Electric Vehicle is rated by the EPA at 115 MPGe1 in full electric mode which makes it one of the most efficient vehicles. The PHEV is now going to be available for the customers in New York and California.
The hybrid efficiency here is combined with a powerful dose of instantaneous electric-motor torque. The gasoline fuel-economy rating is of 47/46/46 mpg (city/hwy/combined) which makes the first production car in the U.S. to meet the new LEV3/SULEV20 emissions standard.
This Honda model is powered by the brand new Honda Earth DreamsTM technology two-motor hybrid system that uses a powerful 124-kilowatt (169 hp) electric motor. The latter serves also as a continuously variable transmission (e-CVT) mated to a highly fuel-efficient 2.0-liter i-VTEC, Atkinson cycle 4-cylinder engine.
The electric-only operation is supported by a 6.7-kilowatt-hour (kWh) lithium-ion (Li-Ion) battery, with high efficiency regenerative braking provided (electric-servo braking system). The driving efficiency is optimized with the help of the new two-motor hybrid system, which allow the Accord Plug-In powertrain to switch between all-electric EV Drive, gasoline-electric Hybrid Drive and direct Engine Drive within an instant.
Furthermore, two additional driving modes will be available which will help the driver to manage the capacity of the battery. First, in its default start-up mode, the Accord behaves like an electric vehicle. The car will remain in the full-electric mode until the battery state of charge demands the automatic switch to gas/electric hybrid operation.
What happens when the vehicle is put under higher speeds? In this case the gasoline engine steps in and delivers more power. Moreover, a button on the center console allows the driver to manually select the EV mode. In such cases of extreme acceleration, where everything is possible, it's important to not forget to search for the cheapest auto insurance companies on the market nowadays.
Next, there is also a selectable HV mode, which turns the Accord into a conventional hybrid. This means that it combines the power of the electric motor and gasoline engine and optimizes the fuel efficiency while maintaining the battery charge level.
It is important to highlight that this PHEV can be fully charged from a low-charge indication point in less than three hours when plugged into a standard 120-volt household electrical outlet. When it is utilized a 240-volt "Level-2" charger, the car need to fully recharge in less than an hour. Here the HondaLink™ EV smartphone application will help the owners to remotely monitor the charging state.
2014 Honda Accord PHEV is based on the Touring trim level of standard Accord Sedan, but includes one-of-a-kind styling cues. It will be available in three exterior colors: White Orchid Pearl, Crystal Black Pearl and the model-exclusive Burnished Silver Metallic. Its starting price is $39 780.
Honda Accord Plug-In Fuel Efficiency Comparison
Model
EPA Combined MPGe Rating
EPA Fuel Economy City/Highway/Combined
Honda Accord Plug-In
115 MPGe
47/46/46
Ford Fusion Energi Plug-In
100 MPGe
44/41/43
Chevy Volt
98 MPGe
35/40/37
Prius Plug-In
95 MPGe
51/49/50
Video Source: YouTube
Source: Honda
What is your opinion?