Honda Launches First Ever Diesel Automatic
Posted by

Zahari Mladenov

on
Honda will launch its first automatic transmission for a diesel engine in the New Year, with the new gearbox debuting in the latest Accord. The eagerly-awaited auto 'box for Honda's i-DTEC engine means the Accord will appeal to a new segment of customers, particularly in the corporate market, where high mileage user choosers often will only consider an automatic transmission.

"Company car tax legislation has driven much growth in diesel sales and resulted in traditional 'petrol heads' re-assessing their choice of powertrain," said Graham Avent, Manager – Corporate Sales, Cars, Honda (UK). "For many of these drivers, the final hurdle in their transition to driving a diesel is whether or not it is available as an automatic."
Since creating its first diesel engine in 2004, Honda's intention was to produce a high quality automatic gearbox in-house, rather than compromise the performance of its i-DTEC engine by mating it with an externally supplied transmission.
The result is a responsive 'box that's smooth and sporty with practically zero lag between kick-down and gear shift – especially when using the steering-wheel mounted paddles. In the saloon, top speed is 129mph with 136PS at 4000rpm and torque of 350Nm at 2000rpm. By comparison, the Tourer manages a top speed of 126mph.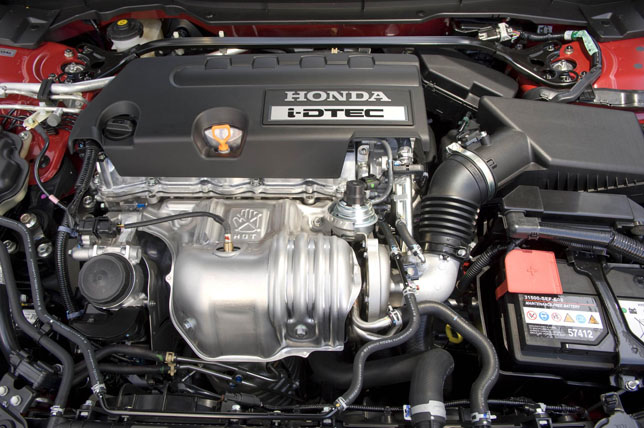 The Large Project Leader for Accord, Hiroyuki Ikegami commented: "Having equipped the Accord with a newly developed engine, it would have made no sense to compromise the exceptional flexibility of the i-DTEC by mating it with an externally supplied transmission. Therefore, despite it taking more time, we have undertaken an extensive development programme for our gearbox in order to bring an automatic diesel to market."
The new 5-speed unit uses the same straight gate layout and paddle shift system as seen on the Accord petrol automatic earlier this year. CO2 emissions are 170g/km (saloon) and 173-174g/km (Tourer) depending on model grade, while fuel economy is 44.1mpg (combined) for the saloon and 42.8mpg (combined) for the Tourer.
The Accord i-DTEC automatic will go on sale in January 2009 priced from £22,400 (Accord 2.2 i-DTEC ES saloon) and £23,700 (Accord 2.2 i-DTEC ES Tourer).
All engines in the Accord line up are designed to meet Euro 5 legislation.