Launch of the new 2013 Chevrolet Corvette 427 Convertible Collector Edition
Posted by Lidia Todorova on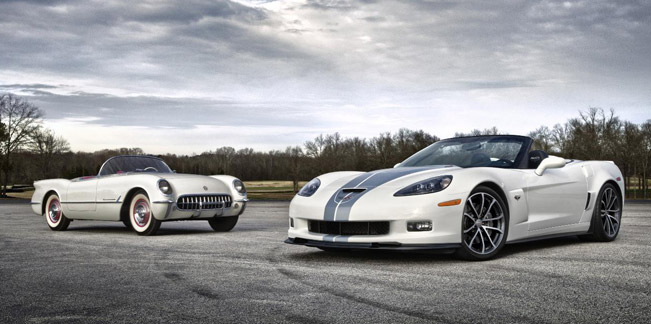 2013 Chevrolet Corvette 427 Convertible Collector Edition comes to commemorate the 60th Anniversary of the powerful and legendary Corvette model. The car exemplifies a true sports car, having great amount of style and delivering exceptional performance.
In those past six decades the Corvette has grown up and changed a lot. Examples from the last decades include extended mobility tyres (also known as run-flat tyres), the head-up display, magnetic selective ride control which enables real-time damping.
And now it is the time when the launch of the new 2013 Chevrolet Corvette 427 Convertible Collector Edition is coming to realization. The model is especially built to celebrate the 60th anniversary of this legendary sports car.
Under the hood is the LS7 7.0 liter (427 cubic-inches) engine, which generates 505 horsepower (377 kW) and has 470 lb.-ft. of torque (637 Nm). It is mated to a compulsory 6-speed manual transmission. The 0 to 60 mph sprint here is just 3.8 second and the top speed exceeds 190 mph.
In fact, this is the fastest Corvette convertible ever built and includes the high-tech features that the nameplate has become renowned for. In addition, it delivers incredible performance. In other words, the iconic Chevrolet model continues to embody both technological advancement and fame.
Source: Chevrolet