Smart Forjeremy by Fashion Designer Jeremy Scott
Posted by Lidia Todorova on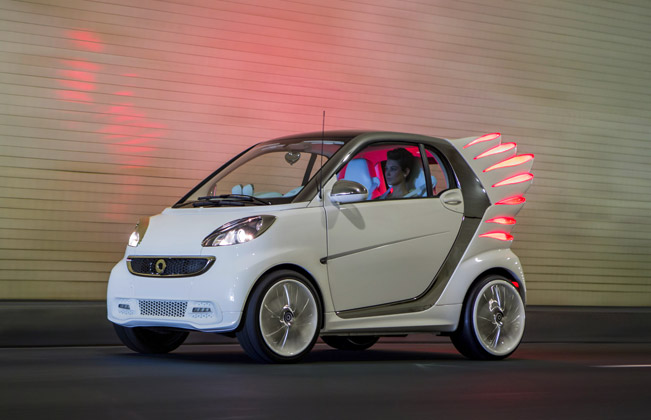 Smart Forjeremy by Jeremy Scott is a project which is ready to literally lift-off into a new era of mobility – full of lightness and joie de vivre. The one-of-a-kind Smart has wings, which is the familiar trademark of the American star designer.
The wings make the car look like an igniting rocket, and this definitely makes Forjeremy the perfect showcar. In addition, it will be launched on the market next year as a limited special edition.
As a matter of fact, the wings are the symbol for carefree driving fun. Within eight months, Jeremy Scott developed the Smart Forjeremy together with designers of the "smart Design Division" at the Mercedes-Benz Cars Advanced Design Studios in Carlsbad, California. The typical stylish design of the Smart Fortwo to inspire him and the result is that he created this unique piece of art.
Furthermore, the futuristic Smart Forjeremy is painted in bright white, against which the chrome-plated tridion cell glistens like a jewel. On both sides of the vehicle is positioned a wing made of transparent fibreglass and decorated with rocket-shaped elements that light up red, serving as rear and brake lights.
The dynamism of the vehicle is enhanced by wider rear tyres and wider rear wheel arches. The wheel rims are shaped like aeroplane propellers, and this leaves the impression that the electric smart might take off at any minute. Complementing the tridion cell, the eyebrows are bright chromium plated, as are the top half of the mirror caps and the frame around the radiator grille.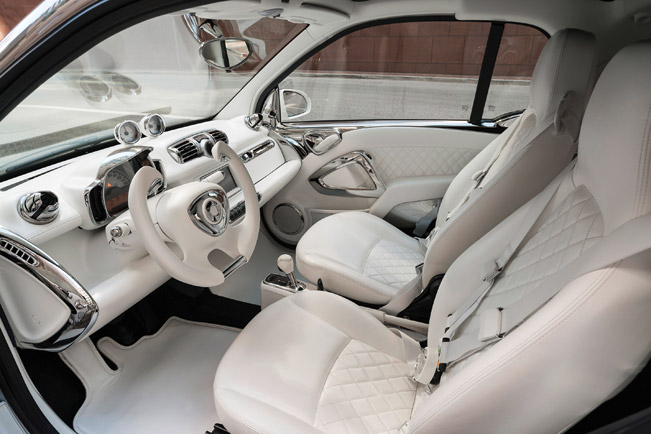 What about the interior? There can be see the elegant marriage of white and glistening chrome accents, which is continued in the interior of the vehicle. The luxurious feel is further amplified by the fine white nappa leather which wraps the instrument panel, seats and door trim.
In addition, the instrument panel includes minimalist seams, and the the seat insert areas and the centre panels in the doors boast extravagant diamond stitching. The gleaming chrome surfaces of the main door trim and typical smart elements such as the closing handles, the side boomerangs of the instrument panel and the characteristic rings on the dashboard instruments form an elegant contrast to the matt white.
Next, the bright chromium plated side air inlets are in a shape of a jet engine. This completes the wing theme on the exterior. The white steering wheel with two chrome spokes is open at the top, further enhancing the sporty and futuristic feeling when being inside the car.
At last but not least, the Smart Forjeremy is based on the current Smart Fortwo Electric Drive, which has 55 kW (75 hp) electric motor and can accelerate from 0 – 60 km/h in 4.8 seconds, and with a maximum speed of 125 km/h. The 17.6 kWh lithium-ion battery enables the urban two-seater to travel approximately 145 kilometres in urban traffic without producing any local emissions.
Source: Smart