2012 Smart ForTwo Electric Drive vs. E-bike
2012 Smart ForTwo Electric Drive gives unique zero-emission driving pleasure. What is more, the small city car will soon be available worldwide and that's not everything. The EV will come along with its new ebike. Great idea, in case you ran out of electricity, which happens very often with these vehicles.
The new ForTwo ED is powered by a 55kW (75PS) electric motor, which gives top speed of 120 km/h (75 mph) and 0 to 100 km/h in around 13 seconds. The Li-ion battery pack has a capacity of 17.6 kWh, which means a range of up to 140 km (87 miles) in the city. Still, we don't believe that and you should get the bike, too.
"The smart fortwo has exceeded itself. It has always been a pioneer of urban mobility and with the new electric drive it is once again setting standards with even more driving fun and environmental compatibility," said Dr. Annette Winkler, Head of smart.
"With the new generation the frequently cited "electric era" has finally arrived.", she added.
2012 Smart ForTwo ED will make its official debut at the 2011 Frankfurt Motorshow and will hit the market in the beginning of the next year. The interesting ebike will hit the market in 2012, too. Just in time to buy it with the electric Smart. As you may suggest, it is not an ordinary bike… it has a small 250 WATT electric motor mounted on the rear wheel with a 0.4 kW battery pack. So, if you can't get to your destination with the electric Smart, you will eventually use electric bike and if this doesn't work, too… Just go on foot!
The ebike is priced at €2 900.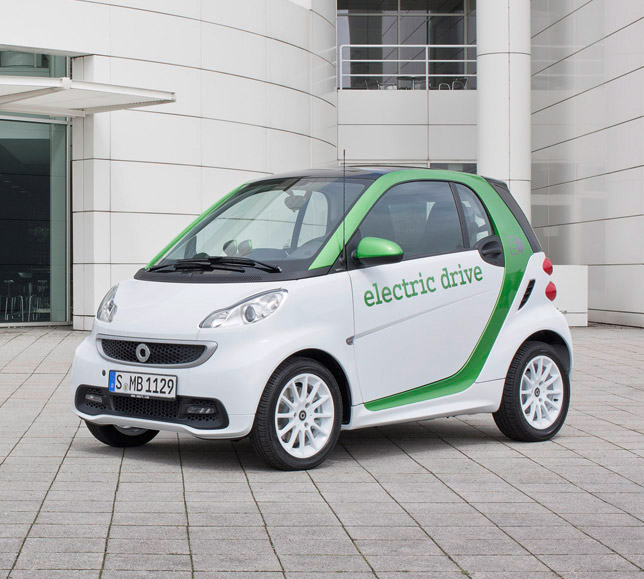 A comparison of the two smart fortwo electric drive generations
| | | |
| --- | --- | --- |
| | Second generation | Third generation |
| Production volume | > 2000 vehicles | Five-figure production volume |
| Availability | 18 markets | More than 30 markets |
| Output | 20 kW constant 30 kW peak | 35 kW constant 55 kW peak |
| Max. speed | 100 km/h | > 120 km/h |
| Acceleration 0 - 60 km/h | 6.5 s | 5 s |
| Battery | Lithium-ion battery from Tesla | Lithium-ion battery from Deutsche ACCUmotive |
Source: Mercedes-Benz