1 000 KM of Spa-Francochamps
The 2011 Le Mans 24 Hours is the biggest upcoming motor sport event. That's why Team Peugeot Total had a test day held on 24th April, which is crucial to acquire important data necessary to ensure it arrives at Le Mans with the best possible car set-up.
There will be three Peugeot 908s with totally nine drivers, who have two targets. The first one is to prepare for Le Mans without taking any risks and the second is picking up ILMC points.
"The ILMC season got underway with a podium spot at Sebring, after an intense 12-hour race. The conditions were perfect to prepare for our main target of the year, the 24 Hours of Le Mans. Since then, the cars have had a lot of track time in private testing. The test day really got us into the mood at Le Mans; competing in this race at Spa-Francorchamps is the best way of checking that our racing reflexes are well and truly in place. The entire team will be at the event. We will be working in the same conditions that we'll have in Le Mans. The ILMC is an important goal for us; however, we are not going to go after the race win at any cost, just a few weeks away from Le Mans. Above all, we need to make it to the end of the 1,000 kilometres of Spa-Francorchamps with all three cars intact and collect as much information as we can during the race. If we manage that, Peugeot will undoubtedly come away with a serious haul of points.", commented Olivier Quesnel, Peugeot Sport Director.
Team Peugeot Total is unbeaten since 2007 and the great success came in 2010, when they recorded a one-two at the 1 000 kilometres of Spa-Francorchamps. The race was won by Sébastien Bourdais, Simon Pagenaud and Pedro Lamy, followed by Franck Montagny and Stéphane Sarrazin in second.
This year, the official driver line-ups are identical to those of 2010:
Peugeot 908 No.7 (blue rear-view mirrors): Anthony Davidson, Marc Gené and Alexander Wurz
Peugeot 908 No.8 (white rear-view mirrors): Nicolas Minassian, Franck Montagny and Stéphane Sarrazin
Peugeot 908 No.9 (red rear-view mirrors): Sébastien Bourdais, Pedro Lamy and Simon Pagenaud
Check out the schedule for the event, below!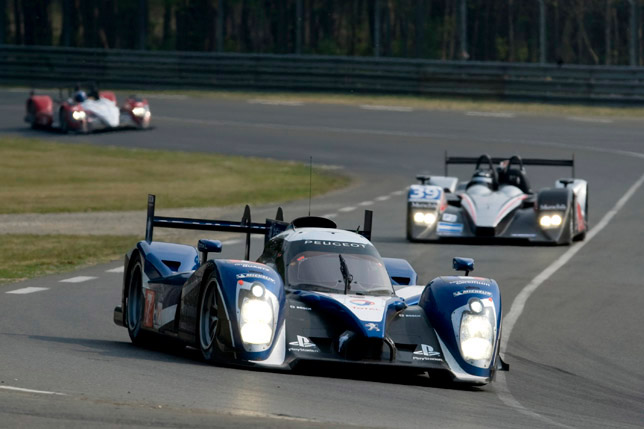 SCHEDULE FOR THE 1 000 KM OF SPA-FRANCORCHAMPS:
Thursday 5 May 2011 12.20pm – 1.20pm: Free practice 2.45pm – 3.10pm: Press briefing at the Peugeot Sport hospitality area 4.55pm – 5.55pm: Free practice
Friday 6 May 2011 11.50am – 12.50pm: Free practice 4.20pm – 4.40pm: LMP1/LMP2 qualifying
Saturday 7 May 2011 9.55am – 10.15am: Warm up 2pm – 8pm: 1,000 kilometres of Spa-Francorchamps
ILMC STANDINGS BEFORE SPA:
Manufacturers: 1. Peugeot, 27 points 2. Audi, 17 points
Teams: 1. Team Oreca Matmut, 15 points 2. Team Peugeot Total, 12 points 3. Audi Sport Team Joest, 9 points 4. Rebellion Racing, 6 points
Source: Peugeot