2012 Geneva Motor Show: ABT Audi QS3
Abt sportsline has revealed the tuned Audi Q3 at the 2012 Geneva Motor Show. The small SUV comes with complete styling package and performance upgrades. The name of the project is ABT QS3, where the "S" stands for sport.
The engine range includes 2.0 TDI with 205PS (151 kW), instead of factory's 177PS and the 2.0 liter TFSI produces 270PS (199 kW), instead of 211PS.
The suspension is improved by installing a set of lowering springs. There are a different ABT sport wheels available from 18'' to 20'' and also in combination with high-performance
tyres.
The styling package includes a new front grill, front spoiler, door strip attachments, rear skirt and rear spoiler.
The exhaust system received a new rear muffler for some added performance and better sound.
Check out the full list of upgrades below!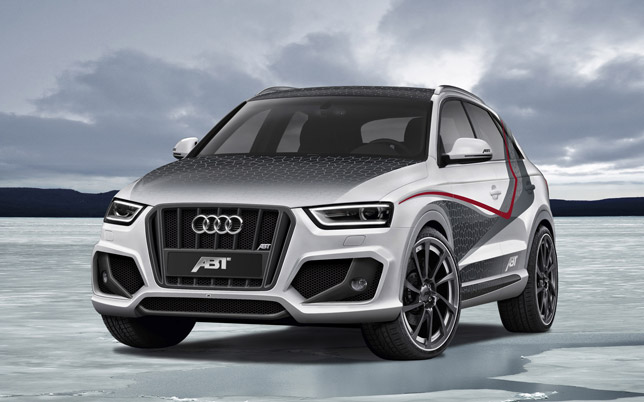 The new ABT QS3 – data and facts
ABT ENGINE TECHNOLOGY
Engine: 2.0 TDI, 1.968 cc capacity
Performance tuning: ABT POWER
Performance: 205 HP/151 kW (standard: 177 HP/130 kW)
ABT ENGINE TECHNOLOGY
Engine: 2.0 TFSI, 1.984 ccm capacity
Performance tuning: ABT POWER
Performance: 270 HP/199 kW (standard: 211 HP/155 kW)
ABT SUSPENSION
ABT suspension springs
ABT BRAKES
345 x 30 mm, black painted brake callipers with ABT-Logo
ABT AERODYNAMICS
ABT front grill
ABT front spoiler
ABT door strip attachments
ABT rear skirt
ABT rear spoiler
ABT EXHAUST TECHNOLOGY
ABT rear muffler
ABT WHEEL TECHNOLOGY
ABT designer light alloy wheels "CR" and "DR" in 18 to 20 inch
Available also as complete set of wheels with sports tyres
Source: ABT