2012 Mazda Axela 20S-SKYACTIV Advanced Style with number of upgrades
2012 Mazda Axela is now upgraded and includes Mazda's SKYACTIV-G 2.0 engine. In addition, the special edition Mazda Axela Sports 20S-SKYACTIV Advanced Style now has enhanced features such as leather seats, a leather-wrapped parking brake lever, and cruise control.
Furthermore, the ride quality has been improved and noise in the cabin has been further minimized thanks to the sound insulation and sound-proof glass. The model's sporty features include a speedometer scaled up to 240km/h and a large rear roof spoiler.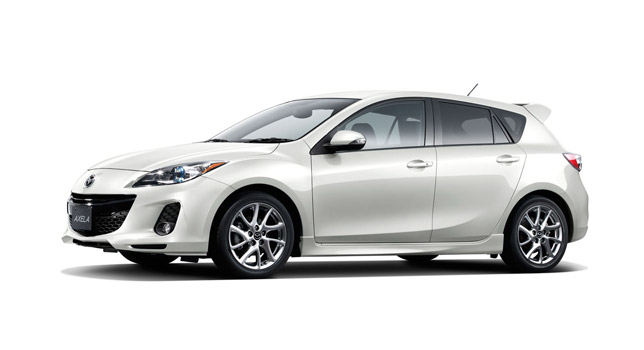 Next, there have been upgrades which concern the safety features. For instance, Mazda now includes Adaptive Front-lighting System (AFS), which alters the direction of the headlights in accordance with vehicle speed and steering movements.
Additionally, the Rear Vehicle Monitoring system detects cars which approach from behind on either side of the Axela when driving on the highway. Then, warning signals become active there is a risk of collision.
The most important update here however is the revisions to the fuel management system of the highly efficient SKYACTIV-G 2.0 direct-injection gasoline engine. The result is enhanced fuel economy.
The Axela Sport 20C-SKYACTIV and 20S-SKYACTIV, which run on 15-inch tires, achieve a fuel economy rating of 17.4km/L.
Main features of the special edition 2012 Mazda Axela Sport 20S-SKYACTIV Advanced Style are: superior high quality interior, genuine leather seats and a parking brake lever with genuine leather cover, quieter cabin, sound-proof glass, additional acoustic insulation beneath the hood and below the instrument panel, thicker sound and vibration padding under the front seats and addition of acoustic insulation below the A-pillar, sporty interior and exterior design, 17-inch reflective aluminum wheels, speedometer scaled up to 240 km/h, enhanced safety and comfort, Adaptive Front lighting System (AFS), discharge headlights (bi-xenon), Rear Vehicle Monitoring system, automatic anti-glare rear view mirror, 8-way power adjustable driver's seat, cruise control.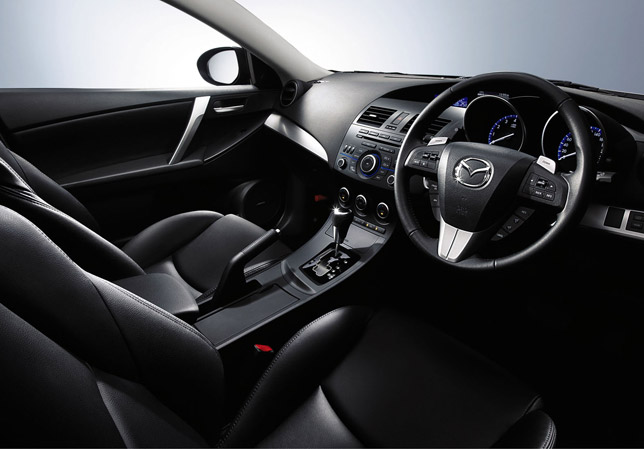 2012 Mazda Axela Data:
Model grade
Drive
Engine
Transmission
Sedan
15C
FWD
MZR1.5L (1500 DOHC)
CVT (7 speed Activematic)
20C-SKYACTIV
SKYACTIV-G 2.0 (2000 DOHC)
SKYACTIV-Drive (6-speed EC-AT Activematic)
20E-SKYACTIV
20E (4WD)
4WD
MZR2.0L (2000 DOHC)
4-speed EC-AT
Sports
15C
FWD
MZR1.5L (1500 DOHC)
CVT (7 speed Activematic)
15S
20C-SKYACTIV
SKYACTIV-G 2.0 (2000 DOHC)
SKYACTIV-Drive (6-speed EC-AT Activematic)
20S-SKYACTIV
Mazdaspeed Axela
MZR2.3L DISI Turbo (2300 DOHC)
6-speed MT
20E (4WD)
4WD
MZR2.0L (2000 DOHC)
4-speed EC-AT
Source: Mazda