2014 Cadillac CTS at Nurburgring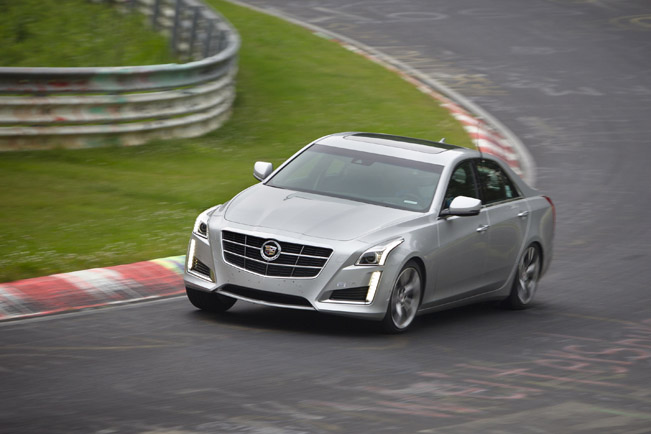 2014 Cadillac CTS Vsport was tested at the world's most-demanding test track – Germany's Nurburgring – and recorded lap times to enhance the nameplate's reputation as a driver's car.
The performance saloon set a lap time of 8:14.10, almost six seconds faster than the first generation CTS-V recorded 10 years ago with a larger V8 engine.
The 3.6 twin-turbo V6 produces 420HP (313 kW) and 583Nm (430 lb-ft) of torque in the CTS Vsport. It is connected to an 8-speed automatic gearbox.
Nurburgring validation certified that all CTS suspension packages are capable of handling the extreme conditions and unlimited speeds of Autobahn driving. CTS development included Autobahn and track calibrations of the steering system, shock absorbers, chassis controls and powertrain cooling.
"The Nurburgring's extreme conditions allow us to push cars to the limits of stability, steering, braking, ride and handling. The new CTS models had a lot to live up to considering the nameplate's history of outstanding performance, and we were not disappointed" commented Dave Leone, CTS executive chief engineer, Performance Luxury Vehicles.
The 2014 CTS standard model will start at $46,025, including $925 destination. Three collections of option packages – Luxury, Performance and Premium – will be offered with either the 2.0T turbocharged four cylinder or 3.6L naturally aspirated V6 engine in either RWD or AWD. The CTS Vsport model starts at $59,995, including $925 destination.
Source: Cadillac