Alfa Romeo 2uettottanta Concept at Qatar Motor Show
Attenders at this month's Qatar Motor Show are in for a treat because a Pininfarina Alfa will be taking part as an exhibition. It is the truly delightful Alfa 2uettottanta concept – a familiar face not only because it has been around for a while (barer of the 2010 Car Design of the Year Award) but also because it is a direct descendant to the historic Pininfarina Alfa Romeo Spider, also known as "Duetto"
The genetic code of the roadster icon can be detected easily by those who know where to look at. The 2uettottanta's engine for instance is a 1750 cc unit positioned longitudinally that echos the 1968 Spider "Veloce" - one of the many incarnations of the Duetto. The Alfa Romeo shield is still as emblematic as ever and so is the red paint that acts as a definitive characteristic in all Alfas. Most of all however, the thing that brings up the Duetto name is the idea itself - It still is a 2 seated, simple roadster, a passion on wheels and a joy to drive.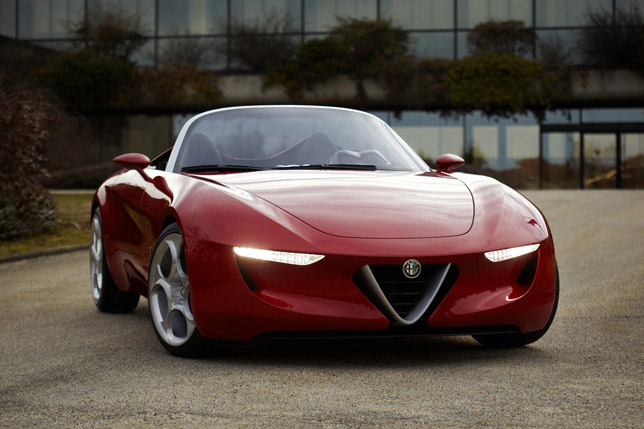 While it does stay true to its ancestors, in no way we can call it ancient. Dimensions stand at 1797 mm in width, 4212.6 mm in length and 1280 mm in height – wider but just a bit shorter and lower than the original Duetto. The body exhibits a multitude of curves and  dimples which give an overall feel of slipperiness and elegance. There are no materials in excess, no protrusions. Instead, it is smooth as a soap bar. A line slashes trough the whole car horizontally which in a way improves the road stance (visually).
Will this superb piece of work become a production reality or will it remain a monument that marks the immaculate alliance between Pininfarina and Alfa Romeo, we'll just have to wait and see.The Qatar Motor Show goes public on the 25th of January and it will host a number of companies among which four Italian ones, including Pininfarina.
Source: Pininfarina