BMW Motorsport - M3 GT
BMW Motorsport is preparing their cars for the very important endurance race - 24-hour Le Mans. Together with 52 other cars, the two BMW M3 GTs with car numbers 55 and 56 took to the "Circuit de la Sarthe" on Sunday, completing a total of 147 laps.
The team collected very useful data, which will be used for the settings of the M3 GT race cars. The 24h Le Mans race will be held on 11th/12th June 2011, so the team has a month and a half to prepare the two BMWs.
The No.55 BMW M3 GT, with Augusto Farfus (BR), Jörg Müller (DE) and Dirk Werner (DE) at the wheel, came third in the GTE Pro class after two four-hour test sessions with a lap time of 4:01.631 minutes. Andy Priaulx (GB), Dirk Müller (DE) and Joey Hand (US) shared driving duties in the second BMW M3 GT, finishing seventh after clocking a time of 4:03.856 minutes.
This test ahead of the 24-hour race definitely was an important one for us," commented Team Manager Charly Lamm following the test day.
"Le Mans is such a unique and mighty venue that every single lap of this track helps. The team used the occasion to reacquaint itself with the special demands and workings asked for by this classic circuit. The test was of particular importance for Joey Hand. He was a Le Mans rookie and successfully qualified for the race held in June. Conditions were excellent, all six drivers managed to put in many laps and collected a lot of data.", he added.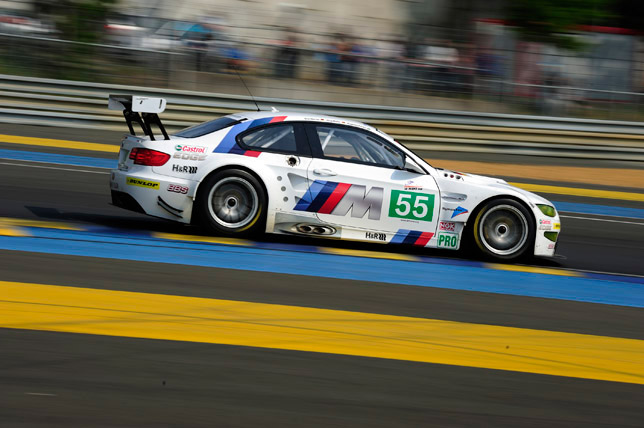 Source: BMW Motorsport