Mercedes-Benz C63 AMG Black Series by Domanig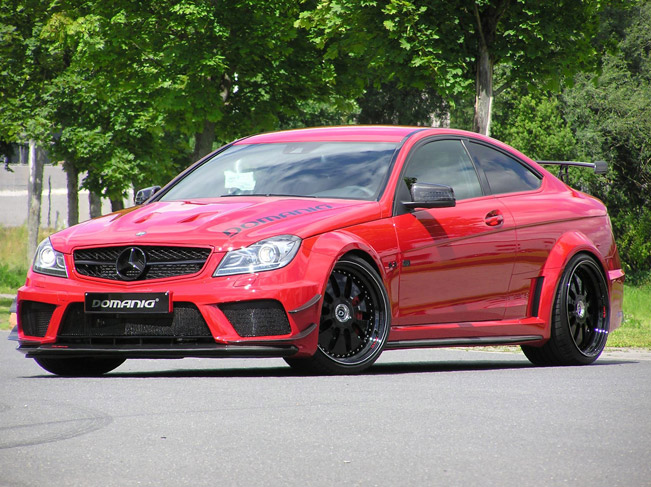 Mercedes-Benz C63 AMG Black Series by Domanig is exquisite tuning creation by the talented designers and engineers from the German based tuning company Domanig Autodesign. Although the C63 AMG Black Series is almost perfect… almost. Exactly this word motivated the tuners to transform and enhance the emblematic Mercedes-Benz.
In particular, they weren't satisfied with the performance and look of the car. As a standard, the C63 is equipped with 6.3-liter V8 engine, which brings 517 hp (380 kW) on the road. The performance of the car however was boosted with the installation of a Domanig-header, sports catalyst and a modified engine control unit.
The result is that the Mercedes now achieves 600 horsepower (441 kW). The top speed was also enhanced too the number of 320 km/h. In addition, the aerodynamical presence of the car benefit from the fact that the car is 25-30 mm nearer to the ground.
In addition the Black Series was equipped with chrome parts painted in black-gloss paint or body color paint. The exhaust tailpipes for instance are with coating in the same color. The center console is also painted in body color.
Domanig High Quality Wheels are the ext highlight here. The three-piece type wheels come in a shiny black-coating with a polished outer rim edge. The rims have the size of 10.5 x 20 inches at the front axle, and at the rear - 12 x 5 x 20 inches. For the tires, the choice is 265/30ZR20er and 305/25Z20er Dunlop Sport Maxx GT tires.
Source: Domanig Autodesign via Facebook