Premiere For Fiat 500L Pro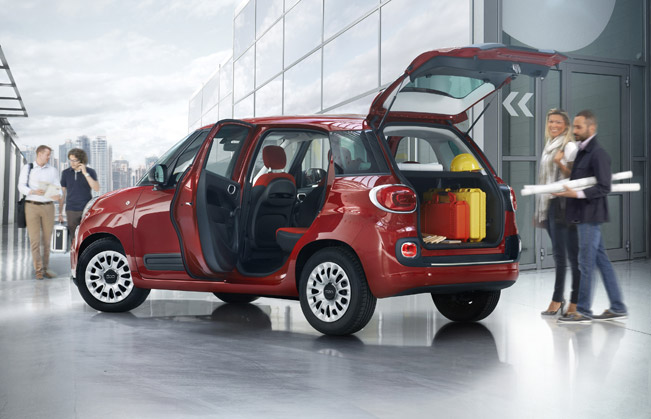 Fiat 500L Pro is the latest variant of the famous model which combines the unmistakable Italian design with the special features of Fiat Professional products. It delivers excellent fuel economy and ergonomics, low emissions and fuel consumption, outstanding reliability and robustness.
The model is being offered on four-seat configuration only. However it can be fitted with two efficient engines: the 85 hp (63 kW) 1.3 16v MultiJet 2II turbo diesel and the 95 hp (70 kW) petrol 1.4 16v Fire.
One of this Fiat's strongest points is the excellent external dimensions. The 500L Pro is is 415 cm long, 178 cm wide, 166 cm high and has a 261 cm wheelbase. The latter results in great interior space and in addition it includes 400 litre boot, which becomes 1310 litres by folding down the rear seats.
On the other hand, the fuel consumption and servicing are at their best, and are combined with good pick-up and flexibility at low rpm even with a full load. To be more precise, the 1.3 16v MultiJet 2 delivers 85 horsepower (63 kW) at 3,500 rpm and has a maximum torque of 200 Nm (148 lb-ft) at 1,500 rpm. In addition, this engine produces only 110 g/km of CO2 and its fuel economy is estimated at 4.2 litres/100 km.
Next, the other variant – the 1.4 16v Fire engine produces 95 hp (70 kW) at 6000 rpm and reaches a top torque of 127 Nm (94 lb-ft) at 4500 rpm. In the combined cycle, the fuel consumption is 6.2 litres/100 km and the CO2emissions - 145 g/km.
Furthermore, the 500L Pro is equipped with range of safety technologies which come as a standard: front airbags and window bags, three-point seat belts with double pretensioners and load limiters, adjustable front and rear head restraints, ABS with BAS (Brake Assist System) and ESC for stability control, Hill Holder, ASR/ MSR, DST and ERM functions.
The starting price of Fiat 500L Pro begins at € 10300.
Source: Fiat