€7,040,00 for a ultra-rare Ferrari California spyder - new record by RM auctions
Leading international auction house, RM Auctions, in association with Sotheby's, made a triumphant return to Maranello, Italy  this past weekend, setting a new world record for the most expensive motor car ever to be sold at auction. Taking this prestigious honour was the stunning 1961 Ferrari 250 GT SWB California Spyder, formerly owned by Oscar winning actor, James Coburn, which sold for €7,040,000 ($10,894,400). Other top sellers included a grand prix winning 1964 Ferrari 250 LM; an ultra-desirable 1958 Ferrari 250 GT LWB California Spyder; and a rare 1971 Ferrari 512M.
RM Auctions, in association with Sotheby's, has continued its record-breaking European sales run with another highly successful auction event held at the famous Pista di Fiorano in Maranello, Italy over the weekend.
Coming just 12 months after RM Auctions' inaugural European event, the second Ferrari Leggenda e Passione auction stole the attention of the international collector car industry once again offering an unrivalled collection of historic road and race Ferraris, and claiming the new world record for the most expensive vintage motor car ever to be sold at auction.  Taking this prestigious title was a stunning, Nero black 1961 Ferrari 250 GT SWB California Spyder (s/n 2377GT). Formerly owned for over 25 years by Oscar winning actor, James Coburn, the rare covered headlamp Spyder caused a frenzy of bidding on the auction block, and well exceeded its original estimate to sell for an impressive  €7,040,000 ($10,894,400, ?5,598,208).
As the gavel fell for the final time of the day, total sales including memorabilia surpassed €29 million, with five cars breaking seven-figures.
"We are absolutely delighted by the results for this headline-grabbing auction," said Max Girardo, Managing Director of RM Auctions' European Operations. "The Coburn California Spyder was without doubt the star of the show, and for RM to have had the honour of selling the most expensive motor car ever sold at auction in only its third European event is a fantastic achievement."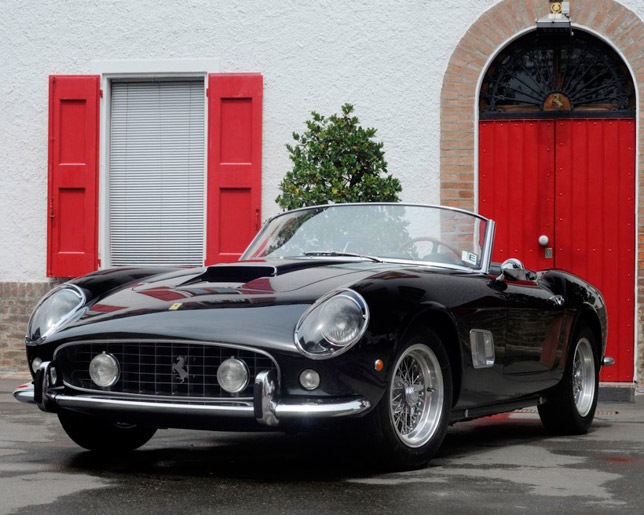 Rob Myers, CEO and founder of RM Auctions added: "Over the years, we've had the privilege of offering some of the world's finest sports and racing Ferraris, and the weekend's event was certainly no exception. The results truly speak for themselves and reflect a very strong market for quality automobiles, as well as our continued success for setting world record prices for the legendary Ferrari marque."
Event festivities kicked off at the Pista di Fiorano race track with a preview on Friday, followed by track demonstrations on Saturday and a glittering cocktail reception in the evening for over 700 VIP guests. Come Sunday, it was standing-room only on the auction floor, as professional collectors and Ferrari enthusiasts from around the world gathered to vie for their very own piece of Ferrari history.
"The Ferrari market continues to be bullish," added Girardo upon reflecting on final results.
"The 250 LM, one of the most exciting sports racing cars ever built, sold extremely well at €4.5 million, and we proved that presentation is the key to achieving top prices, with the stunning 275 GTB/4 selling for €1.3 million, and the very beautifully presented 250 GT/L Berlinetta for €759,000," he said.
Additional notable sales included: a stunning 1958 Ferrari 250 GT LWB California Spyder for an impressive €2,365,000; a legendary 1971 Ferrari 512M sports racing car for an exceptional €2,090,000; and a rare 1962 Ferrari 250 GT Lusso "Comp" for an excellent €1,100,000. Coinciding with the 40th anniversary of the Ferrari Daytona, an ultra-collectible, award-winning 1971 Ferrari GTS/4 Daytona Spyder crossed the block for €962,500.
In addition to the vintage motor cars, the single-day event also shone a spotlight on some of Ferrari's more recent offerings, including a magnificent pair of Ferrari Enzos from the 2003 and 2004 production years, which sold for €770,000 and €852,500 respectively, whilst a "Magic India Discovery" Tour model 2008 Ferrari 612 Scaglietti brought €220,000 for charity.
The Maranello event also marked the auction debut for one of the world's most important Ferrari memorabilia collections – Jacques Swaters' famed Garage Francorchamps Collection. The top seller of the collection was the one-of-a-kind 1980 Ferrari Pinin four-door prototype, which brought an impressive €176,000 and many other items were sold for exceptional prices, several of which had been personally signed by Jacques Swaters himself who was sitting in the front row throughout the auction.
Commenting on the sale, Filippo Lotti, Managing Director of Sotheby's Italy, said: "We are delighted with the results for the Maranello sale, in particular the price achieved for the 1961 Ferrari 250 GT SWB California Spyder, which set a new record for any car sold at auction. The results are a true testament to the combination of Sotheby's and Ferrari's expertise and international profile, and RM Auctions' knowledge and record of success."
RM Auctions will return to Europe in October for the annual Automobiles of Londonauction event in Battersea Park. Held in the heart of London, England, the level of entries to the sale will be second to none, headlined by a stunning Bugatti Type 57C Atalante. Next month however, it is back to North America for RM Auctions as they present two significant, private Southern Californian collections for auction – the esteemed Joe MacPherson Collection and the renowned Art Astor Collection, closely followed by their Vintage Motor Cars of Meadow Brook and Sports & Classics of Monterey events in August.