2010 HURST/Pontiac H.O.
Hurst Performance Vehicles, one of the most recognized and respected names in automobile history, announced that it has teamed up with newly appointed Hurst Director Emeritus and legendary performance visionary, "Doc" Watson, to build two new Special Edition Hurst/Pontiacs –  a 2010 HURST/Pontiac H.O. version of the G8 and a G6 convertible. Hurst Performance President, Ron Flint, and Watson made the announcement together on Saturday at a special event held at the Sloan Museum in Flint, Michigan – the birthplace of GM.
Hurst Performance in Irvine, California, will hand-build only 52 examples of the 2010 HURST/Pontiac H.O. – a modern-day version of George Hurst's "Executive Hot Rod". These numbered cars will feature Hurst's iconic white/gold and black/gold colors along with forged alloy Hurst wheels, an exclusive Hurst shifter, supercharged engine, suspension mods and a specially trimmed interior.
Hurst will also commemorate Doc's famous Pace Cars and build ten HURST/Pontiac G6 convertibles to be used as parade and special event cars.
"Doc started all of this with George back in 1960 with Hurst Performance Research. His Hurst H.O. Pontiacs have stormed drag strips and main streets across the country for 50 years," said Hurst Chairman, Nate Shelton. "There could not be a better time to honor Doc and the legendary Pontiac marque."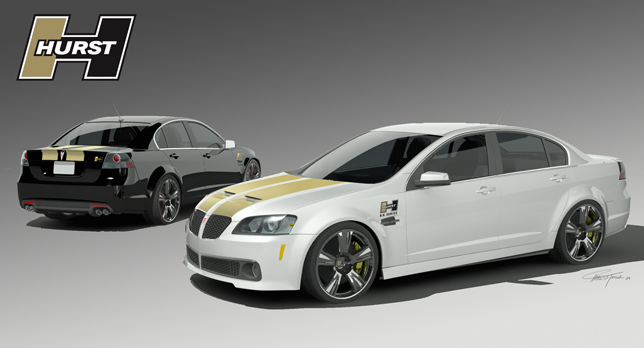 Watson's contribution to the American performance landscape is unrivaled. During a 50-year career in the development, manufacturing and marketing of special vehicles, Watson brought to life more than 80 performance cars and racing vehicles, including the original Hurst Oldsmobile, the Hemi-Under-Glass and the 1972 Hurst/Pontiac SSJ. These new HURST/Pontiac's are yet another chapter in his illustrious career.
"If we combine the wisdom earned through the heritage of past Hurst vehicles with the vision of globally beneficial vehicles, we will not be living through the death of the Muscle Car," Watson explained. "Rather, we will see the birth of exciting, passion-filled performance vehicles – vehicles that will give new meaning to lean, mean, and environmentally clean machines. It's a 'new machine age,' and Hurst will be first once again." Hurst Performance has once again partnered with the Woodhouse Automotive Family of Blair Nebraska as the exclusive Hurst Authorized Pontiac Dealer for sales and service of these exceptional vehicles.
Specifications, pricing and ordering information will be available August 1st on the Hurst website