2012 Infiniti M35h - CO2 below 160g/km
2012 Infiniti M35h is one of the most economical luxury saloon on the market. Furthermore, it makes no harm to the environment with the CO2 emissions of just 159 g/km. Other benefit is for the pocket of the owner. The change brings the hybrid sedan's CO2 under a widely-used tax threshold – and joins with the model's pace-setting speed and fuel economy to present an even more compelling proposition to company fleets across Europe.
Key enhancements to electric motor accuracy and battery charging allow the Infiniti M35h to rely more on silent electric power when starting off from cold, bringing benefits that go beyond lower running costs.
Infiniti M35h has overall power of whopping 364PS (268 kW) and needs just 6.9 liters per 100 km on combined cycle. The highway consumption is 5.6 liters per 100 km and the urban – 9.0 l/100 km. Very interesting fuel economy for a car with more than 350HP. 0-100 km/h in 5.5 seconds and a top speed of 250 km/h (155 mph) – electronically limited.
"The Infiniti M35h is already popular with companies seeking a luxury sedan with no compromise on performance or fuel consumption," commented Guillaume Pelletreau, Commercial Director of Infiniti in Europe.
"Now with no-compromise on running costs, the 2012 M35h offers corporate buyers a car as enticing as it is sensible – a combination we think they will approve of." , he added.
The innovative Infiniti's fuel consumption in everyday driving has similarly been independently verified. In an economy test in the UK in 2011, the M35h returned an overall 6.49 l/100km – 6% better than its combined figure – while all other hybrids taking part failed to match their official ratings, some by as much as 18%. Impressively, the Infiniti M35h cruised silently on electric power for almost half the 596km test distance.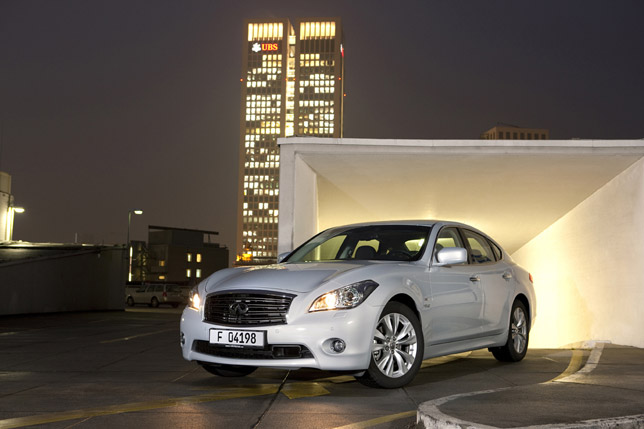 Source: Infiniti