2012 Mercedes SLS Roadster
Mercedes-Benz has released first official photos of the all new 2012 SLS AMG Roadster. After the Gullwing version, the luxury open-top variant is the second car, which will be independently developed by AMG.
The new SLS AMG Roadsters are slightly disguised as they cover their test routes. However, it is easily to identify the vehicles, because of the two seats and a fabric soft top. The proportions are well-known: a long bonnet, large wheels and a short rear end.
The SLS AMG Roadster gets a soft-top roof made of cloth that can be retracted or closed in 11 seconds at speeds of up to 50 km/h (31 mph). Despite losing the gullwing doors, the weight of the roadster didn't suffer at all. The weight of the bodyshell is just 2 kilograms more.
2012 Mercedes SLS Roadster is powered by a 6.2 liter naturally aspirated V8 with 571PS (420 kW) and 650Nm (479 lb-ft). 0 to 100 km/h takes 4.0 seconds, flat and the top speed is electronically limited to 317 km/h (197 mph). Whether open or closed, even at top speed the SLS Roadster is perfectly stable.
The 2012 Mercedes-Benz SLS AMG Roadster will make its official debut at the Frankfurt motor show in September and it will hit the market in the end of the year.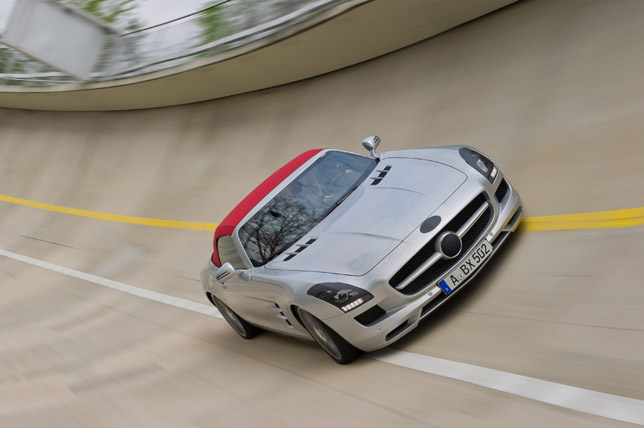 The endurance testing at a glance:
Long-term testing on a variety of different roads:
All the components and systems are tested together in everyday operation. Loaded up to their permitted gross vehicle weight, the test cars are put through a precisely defined test programme on country roads, on motorways and in city traffic.
Endurance testing on heathland:
In this case, the developers focus on the durability of the chassis and suspension components, the entire bodyshell and the integral subframe on which the front axle, steering and engine are mounted. The test cars are loaded up to their permitted gross vehicle weight.
"Accelerated" endurance testing:
Testing of the entire vehicle, focussing on the powertrain, chassis and suspension. Special features of the AMG programme include 10,000 kilometres on the Nürburgring's North Loop and 10,000 kilometres in city traffic.
Full-load endurance testing:
Extreme acceleration and braking manoeuvres with a high proportion of full-load operation, making extreme demands on the cooling, fuel-delivery and braking systems.
Long-term corrosion testing:
Corrosion testing of the entire vehicle simulates the toughest dynamic and climatic environmental influences.
Final board approval:
All-inclusive verification of the degree of development and production maturity.
Source: Mercedes