2012 Volkswagen Passat CC
The Passat CC was extremely successful vehicle. It featured a unique style both inside and outside at decent price and some of the clients, who wanted Mercedes-Benz CLS went to get Passat CC, because it looked rather the same.
Now however, there is a new version of the 4-door coupe – 2012 Passat CC, which will be officially unveiled at the Los Angeles Auto Show on November 16.
The new highlights are modified radiator grille, new bi-xenon headlights and topped with a reprofiled bonnet. The bumper is different, too, with a new extra air intake, and silver-coloured winglets that frame the fog lights.
At the rear, the car is completely redesigned, with more emphasis on horizontal lines and a reworking of the characteristic chrome strip. There are new taillights with LEDs and LED numberplate lights.
An interesting thing is that the "Passat" has been dropped from the name. Rather radical idea, but we like it, because this is completely different car.
The standard equipment list is huge, but some of the safety features include driver alert system and front head restraints with four-way adjustment. A lot of option extras are now available - High Beam Assist, Side Assist, ane Assist and adaptive cruise control with City Emergency Braking function; front climate seats with massage function; and an electrically deployed towbar.
The engine range includes 1.8 liter TSI with 160PS and 2.0 litre TSI with 210PS. The diesel range includes 2.0 liter engine with either 140 or 170 PS.  All models with 170 PS or more also now get a standard XDS differential, an electronic cross-axle traction control system for improved traction and handling.
The CC will make its world debut at the Los Angeles Auto Show before going on sale in the US in early 2012.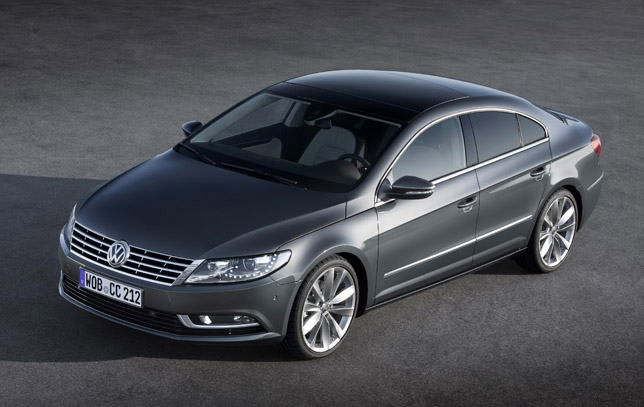 Source: Volkswagen