2013 Audi A3 Cabriolet Final Edition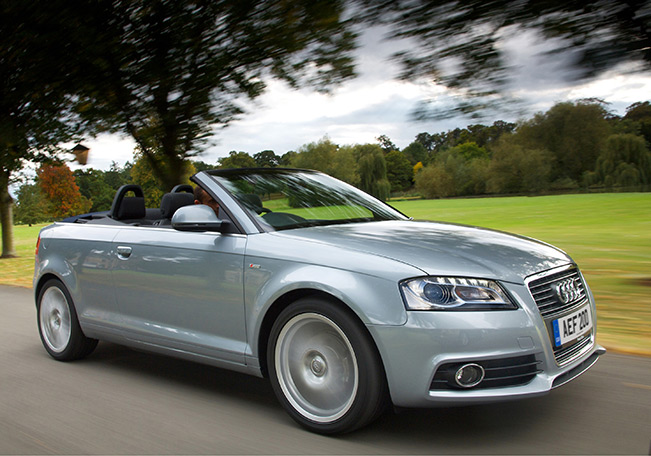 Audi has announced details and price list of the A3 Cabriolet Final Edition. The soft-top car is now even more attractive with more equipment and better value for money. The pricing ranges from £23,775 to £30,615 as for the £23,775 you will get a 1.2 TFSI Sport Final Edition.
Engine range includes: the 1.2 TFSI with 105HP, the 1.8 TFSI with 160HP and the 2.0 TFSI with 200HP – or two turbo charged direct injection diesels – the 1.6 TDI with 105HP and the 2.0 TDI with 140HP.
The A3 Cabriolet Sport Final Edition takes the already comprehensively equipped Sport model and replaces its cloth upholstery with supple Vienna leather. It also adds front seat heating, rear parking sensors, automatic headlight and wiper activation, cruise control and a Bluetooth mobile phone interface. These comfort and convenience features are in addition to existing Sport trimmings such as 17" alloy wheels, sports suspension, dual-zone climate control, a Concert CD audio system with auxiliary iPod/MP3 socket and a fast-acting fully automatic acoustic hood.
S-line Final Edition models offer even more luxury to complement their even more sporting stance. They replace the original 18" S line alloy wheel with a new five-segment spoke design, add full Vienna leather upholstery in place of the original fabric and leather combination and boost the list of S line safety and entertainment features to include xenon plus headlights with LED daytime running lamps, DVD-based satellite-navigation, Audi Music Interface iPod connection and a BOSE sound system.
The premium for the new A3 Cabriolet Sport Final Edition model is £2,340 over the standard A3 Cabriolet, which also continues in this final production run. Compared with the cost of specifying its additional equipment individually, this premium represents a saving of £1,605. The step up to the S line Final Edition from the Sport Final Edition costs an additional £2,435, effectively saving £3,640 compared with choosing its additional equipment separately.
Check out the price list, below!
Price list:
| | |
| --- | --- |
| A3 Cabriolet Sport Final Edition Pricing | |
| 1.2 TFSI Sport Final Edition | £23,775 OTR |
| 1.8 TFSI Sport Final Edition | £26,685 OTR |
| 2.0 TFSI Sport Final Edition | £28,180 OTR |
| 1.6 TDI Sport Final Edition | £25,225 OTR |
| 2.0 TDI Sport Final Edition | £27,030 OTR |
| | |
| A3 Cabriolet S line Final Edition Pricing | |
| 1.2 TFSI S line Final Edition | £26,210 OTR |
| 1.8 TFSI S line Final Edition | £29,120 OTR |
| 2.0 TFSI S line Final Edition | £30,615 OTR |
| 1.6 TDI S line Final Edition | £27,660 OTR |
| 2.0 TDI S line Final Edition | £29,465 OTR |
A3 Cabriolet Sport Final Edition – additional equipment over A3 Cabriolet Sport
Vienna leather upholstery
Front seat heating
Acoustic rear parking sensors
Light and rain sensors
Cruise control
Bluetooth mobile phone interface
A3 Cabriolet S line Final Edition – additional equipment over A3 Cabriolet Sport Final Edition
18-inch 5-segment-spoke alloy wheels
(new design replacing original 18-inch S line equivalent)
Xenon plus headlamps with LED daytime running lights
DVD-based satellite navigation
Audi Music Interface
BOSE sound system
Source: Audi