2013 Frankfurt International Motor Show: 2014 Porsche 918 Spyder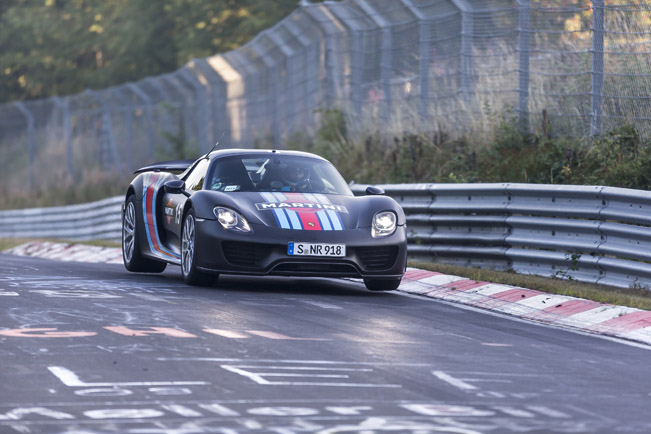 Porsche has finally unveiled the 2014 918 Spyder at the Frankfurt Motor Show in Germany. The debut of the hyper-car marks the start of a new chapter in the future of the hybrid drive. And the technology pioneers are not the only ones who are excited by this flagship project, as the 918 Spyder demonstrates the potential of the hybrid drive to a degree never seen before, achieving a parallel improvement in both fuel efficiency and performance without compromising on either.
Porsche 918 Spyder is powered by a 4.6 liter twin-turbocharged V8 with 608HP (447 kW) at 8,700RPM and 530Nm (391 lb-ft) of torque. There are also two electric motors with 156HP (115 kW) and 130HP (95 kW) at each axle (front and rear). The maximum combined output is 887HP (661 kW) and 917Nm (676 lb-ft) of torque. 0-100 km/h in 2.8 seconds,0-160 km/h in 7.0 seconds and a top speed of 340 km/h (211 mph). The 918 Spyder managed to lap the Nurburgring in just 6 minutes and 57 seconds. The fuel consumption is just 3.0 liters / 100 km.
The manufacturer offers Weissach package including lightweight magnesium alloy wheels (-35kg), six-point harness seat belts, optional film coating instead of a paint finish, as well as several carbon fiber aerodynamic parts.
The 2014 Porsche 918 Spyder is 4643mm long, 1940mm wide and 1167mm tall, with a 2730mm wheelbase. It rolls 20" front and 21" rear wheels fitted with 265/35 ZR20 and 325/30 ZR21 tires.
2014 Porsche 918 Spyder is priced at $845,000 for the US. The Weissach package is another $84,000.
Displacement:    4,593 cm (V8 engine)
Engine power:    608 hp (447 kW) at 8700/min (V8 engine)
286 hp (210 kW) at 6500/min (electric motors)
887 hp (652 kW) at 8500/min (combined)
Max. torque:        917–1,280 Nm (overall, depending on the gear)
Maximum revs:   9,150/min
Power output per litre:   132 hp/litre (V8 engine)
Gearbox: Combustion engine with hybrid module and transmission bolted together to form a single drive unit; seven-speed Porsche Doppelkupplung (PDK); rear-wheel drive; front electric motor with transmission for driving the front wheels (decoupled from 235 km/h); five pre-selectable operating modes for optimum coordination of all drive units
Gear ratios PDK:
| | |
| --- | --- |
| 1st gear | 3.91 |
| 2nd gear | 2.29 |
| 3rd gear | 1.58 |
| 4th gear | 1.19 |
| 5th gear | 0.97 |
| 6th gear | 0.83 |
| 7th gear | 0.67 |
| R gear | 3.55 |
| Final drive ratio | 3.09 |
| Clutch diameter | 220 mm/164 mm |
Chassis: Double-wishbone front axle; optional electro-pneumatic lift system on front axle; electro-mechanical power steering; multi-link rear axle with adaptive electro-mechanical system for individual rear wheel steering; electronically controlled twin-tube gas-filled shock absorbers at the front and rear with Porsche Active Suspension Management (PASM) system
Brake system: High-performance hybrid brake system with adaptive recuperation; internally ventilated and perforated front ceramic brake discs (PCCB) with a diameter of 410 mm and thickness of 36 mm; rear discs with a diameter of 390 mm and thickness of 32 mm
Wheels and tyres:  918 Spyder wheels
(Weissach package: 918 Spyder forged magnesium wheels)
Front 9.5 J x 20 with 265/35 ZR 20
Rear 12.5 J x 21 with 325/30 ZR 21
Weight:   DIN unladen weight 1,634 kg
Dimensions:   Length 4,643 mm
Track width Front 1,664 mm
Luggage compartment volume, VDA ~ 110 litres
Fuel tank capacity:   70 litres
Energy supply:  Lithium-ion battery with 6.8 kWh capacity (BOL nominal), 220 kW maximum power and
mains-compatible plug-in charger
Performance:    Top speed 345 km/h
Acceleration:    0–100 km/h 2.8 s (62 mph)
0–200 km/h 7.7 s (124 mph)
0–300 km/h 22.0 s  (186 mph)
Consumption (NEDC):    Total 3.3–3.0 litres/100 km   (85 – 94 mpg)
CO2 emissions:  Total 79–70 g/km
Energy consumption:   12.5–13.0 kWh/100 km
Efficiency class: Germany A+
Range Purely electric: 16–31 km
Warranty:   Vehicle 4 years
Source: Porsche